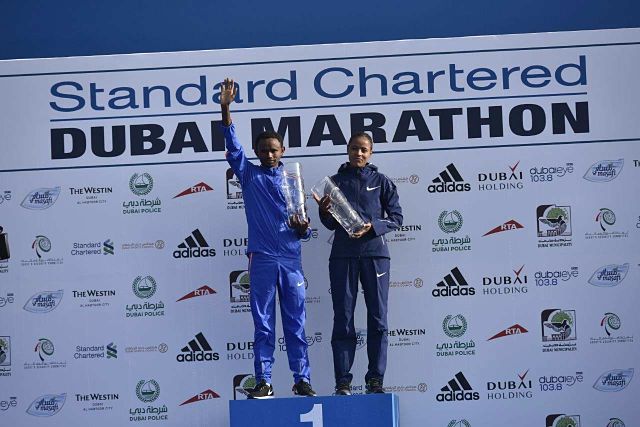 Men, women winners break course records as Ethiopians dominate
Mosinet Geremew of Ethiopia broke the course record to emerge as the new champion of the Standard Chartered Dubai Marathon 2018 with a time of 2:04:00. The previous record was held by 2017 Dubai Marathon winner Tamirat Tola Adere from Ethiopia who finished in 2:04:11.
Roza Dereje of Ethiopia too broke the course record in the women race with a timing of 2:19:17. Dereje broke the course record held by 2012 Dubai Marathon winner Aselefech Mergia, also from Ethiopia with a timing of 2:19:31.
It was a clean sweep again by the Ethiopian runners with all the first ten finishes in the men's race being swept away by the Ethiopians. In the women's race the first seven finishes were by the Ethiopian women.
Results:
Men's race: (All Ethiopians)
1. Mosinet Geremew 2:04:00
2. Leul Gebresilase 2:04:02
3. Tamirat Tola 2:04:06
4. Asefa Mengstu 2:04:06
5. Sisay Lemma 2:04:08
Women's race (All Ethiopians)
1. Roza Dereje 2:19:17
2. Feyse Tadese 2:19:30
3. Yebrg Melese Arage 2:19:36.
—
Join the conversation on Twitter and Facebook.