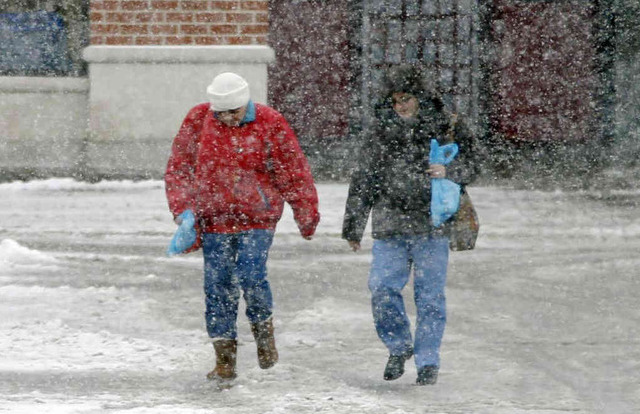 January 27, 2015
A massive winter storm dropped up to 60 centimeters of snow in some parts of the northeastern U.S. Monday and Tuesday, but fell short of forecasters' worst predictions.
Massachusetts and Connecticut saw some of the heaviest snow. Blizzard warnings remained in effect in Massachusetts Tuesday afternoon, as well as coastal areas of Maine and Rhode Island.
High winds, snow
Snow was not the only danger from the storm, which also carried powerful winds. The highest reported winds reached 126 kilometers per hour on the Massachusetts island of Nantucket. Power outages and flooding were also reported in the state.
In New York and New Jersey, it was a different story, as officials and forecasters were forced to defend their strong warnings after the storm produced less snow than anticipated.
The governors of New York and New Jersey began lifting travel bans after dawn Tuesday, while the National Weather Service canceled its blizzard warning for New York City.
"This is nothing like we feared it would be," New York City Mayor Bill de Blasio told CNN. De Blasio had earlier warned the storm could be one of the worst the city has ever faced.
The New York Stock Exchange was operating normally Tuesday, and subways, trains and buses began moving again. But United Nations headquarters and many schools and businesses across the northeast were closed.
Travel across the region also remained crippled Tuesday, with more than 4,500 flights canceled, according to FlightAware.com.
The only reported death in the storm occurred on New York's Long Island, which was hit much harder than Manhattan. The victim was a teenager who crashed into a light post while snow tubing.
Washington escapes blizzard
The brunt of the storm missed the nation's capital, which saw only light snow mixed with rain, but federal offices and public schools in the city opened two hours late Tuesday to give people extra travel time.
On social media, Americans waiting out the snowstorm posted photos and videos of their cities blanketed in white. Hashtags such as #blizzardof2015 and #Snowmageddon2015 quickly gained traction.
As officials and residents prepared for the worst, Broadway theater productions in Manhattan went dark Monday night, New York-area NBA (National Basketball Association) teams postponed games and store shelves cleared out quickly as people scrambled to pick up supplies. Drivers largely heeded orders to stay off the streets in both New York and Boston overnight.
Originally, up to 90 centimeters of snow was expected to fall in some regions of the Northeast, accompanied by near hurricane-force winds and coastal flooding.
—
Related:
New York City Is Spared Worst Effects of Snowstorm (The New York Times)
Join the conversation on Twitter and Facebook.