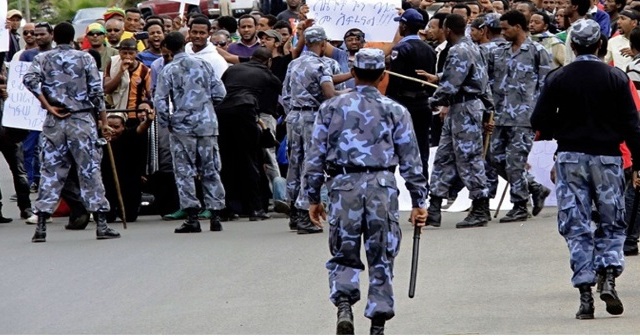 By Betre Yacob

Police brutally attacked and dispersed peaceful demonstrators in the capital Addis Ababa on Sunday as they try to protest against the ongoing government repression on opposition political parties and dissents in run-up to the countries general election..
Political activists say the Sunday's attack against the peaceful demonstrators is further evidence of the authorities' determination to clamp down the activities of opposition political parties ahead the election.
In this latest brutal attack against peaceful protesters, dozens of members and supporters of Unity for Democracy and Justice Party (UDJ) were seriously injured. The incident is the most blatant and massive case of lethal police brutality in Ethiopia.
According to reports, demonstrators were brutally beaten with baton, stick and iron rod in the head, face, hands, and legs. One of the victims is said to have been a pregnant woman. Reports show the victims were taken to hospital right away, and some of them are still receiving medical treatment.
Among seriously injured was Sileshi Hagose, the member of the general assembly of the party and editor in chief of a weekly newspaper. Recently released photographs show that he was wounded in the face and head, and his both hands were seriously broken.
UDJ is the main opposition political party struggling in the narrowing political landscape in Ethiopia and is one of the few parties working at national level with an inclusive structure by bringing different ethnic groups all together.
Read more »
—
Join the conversation on Twitter and Facebook.