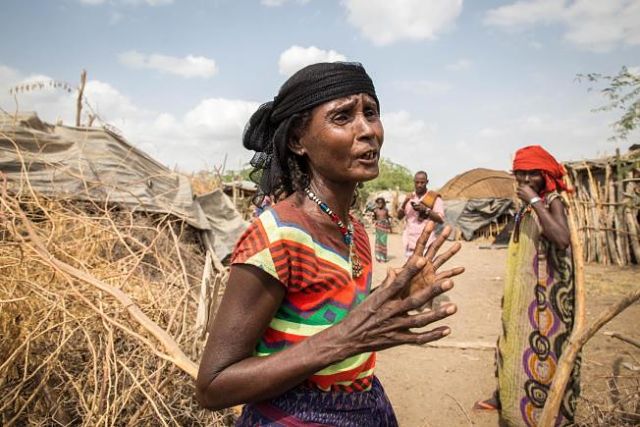 By ELIAS MESERET
Drought threatens malnourished children in Ethiopia
DUBTI, Ethiopia — Morbid thoughts linger on people's minds here. The crops have failed and farm animals have been dying amid severe drought that has left Ethiopia appealing for international help to feed its people.
On Sunday, U.N. Secretary-General Ban Ki-moon is set to visit some drought stricken locations in Ethiopia as the government and its humanitarian partners seek additional financial support.
Here, in the Dubti area of Ethiopia's Afar region, one of the hardest-hit regions, the river that runs through is slowly drying up, leaving this normally hot and arid land even worse off. Some worry that children may start dying next.
"My child is severely malnourished to the point that he could no more do breast feeding," said Fatuma Hussein, a 30-year-old mother who has spent two months at a local clinic trying to get her child treated for malnutrition. Health officials said her child's condition was serious because the mother had no food left at home and had been sharing the enriched food provided to her weak son with her older children.
"They are asking me to stay at the clinic until my son's condition improves. But I couldn't. If I stay here, the rest of my children will die. If Allah choses to take his life then let it be," she said.
The Ethiopian government and aid agencies say El Nino conditions triggered drought in Ethiopia that has left more than 10 million people food insecure, and it is estimated that there will be at least 400,000 cases of severe malnutrition among children under age 5 in the country soon. Only a third of the $1.2 billion needed for emergency food assistance in the country has been raised.
—
Related:
How Bad is the Drought in Ethiopia?
Ethiopia Starts Distribution of Food & Cooking Oil to People in Drought Hit Areas (AP)
Thirty years of talking about famine in Ethiopia – why's nothing changed? (BBC)
Drought Takes Terrible Toll in Ethiopia (BBC News)
Ethiopia Tries to Avert Another Famine (The Economist)
Worrying aid shortages as malnutrition hits record high in Ethiopia (Reuters)
El Niño Strikes Ethiopia (NY Times Editorial)
Ethiopia, a Nation of Farmers, Strains Under Severe Drought (The New York Times)
Ethiopia's Government Makes International Appeal for Food Aid After Poor Harvests (AP)
Ethiopian drought threatens growth as cattle die, crops fail (Bloomberg)
Drought Hits Millions in Ethiopia (Radio France International)
Sharp rise in hungry Ethiopians needing aid: UN (AFP)
Ethiopia: Need for Food Aid Surges (Reuters)
The Cause of Ethiopia's Recurrent Famine: Is it Drought or Authoritarianism? (The Huffington Post)
Join the conversation on Twitter and Facebook.