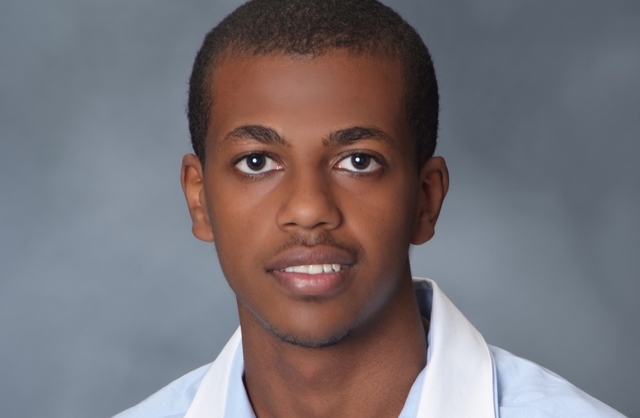 Tadias Magazine
By Tadias Staff
Published: Thursday, January 31, 2013
New York (TADIAS) – 18-year-old high school senior Mikias Tefera Tibebu was looking forward to college in California next Fall and dreaming of one day becoming a medical doctor when his young life was cut short this past December in an accident that police in Schaumburg, Illinois, a suburb of Chicago, say was a hit-and-run yet to be solved.
Family members say Mikias had gone out with three friends for a movie and dinner on the evening of Friday, December 7th, 2012, but did not return home. His father, Dr. Tefera Tibebu Beyene, told Tadias he had spoken to Mikias only an hour before the incident and he was expecting his son's arrival at any moment when instead he received a visit from police bearing bad news in the early morning hours of Saturday, December 8th.
Mikias' body was discovered lying in a roadway less than two miles from his house at around 12:38 a.m., only minutes after he separated from his friends.
"We lost our son and our hero," his father said. "We are still in shock and devastated by this tragedy. We wish this not to happen to anyone."
According to the Chicago Tribune, authorities have checked nearby surveillance cameras but said there is no footage of the incident at that intersection. "If we had a piece of a headlight or a bumper, then we can say, 'This was a blue car,' or, 'This came from a Ford,'" Schaumburg police Sgt. John Nebl told the paper. "There's two different questions here. Who ran him over, and where are they? And why was he lying in the roadway?"
The investigation is still underway, but his father said the family has also retained a private investigator to help them find "the truth," and hopefully closure. And they are offering more than $10,000 reward for information that might help solve the case.
Mikias, who grew up in the Chicago suburb, was born in Ethiopia in 1994 and came to the United States in 1996 when he was two years old. His friends and teachers remember him as a nice and bright student with a promising academic future and a rising athlete at Schaumburg High School where he was a member of the Track & Field team in addition to being an outstanding student who received Presidential Academic Excellence awards from President George Bush in 2007 and President Barack Obama in 2009. Mikias was recognized as an Illinois State scholar in 2012.
He was "a dedicated student with exceptional academic honors," Schaumburg High School Principal Tim Little told the media. "A beloved friend and athlete, Mikias was also a committed member of the cross-country and track teams. Our thoughts and sympathies are with Mikias' family and friends during this difficult time," the Principal said.
Dr. Tefera said his son was also preparing for an interview at Pomona College in California where he was a finalist to receive a full scholarship for fall 2013. "Mikias was a great asset to his family and to his country," Dr. Tefera said. "All people who knew Mikias have expressed how great a leader and role model he was."
In an essay not long before his death Mikias wrote: "Both my parents are natives of Ethiopia and arrived in the U.S. in 1996. Coming from this culture I have gained perspectives that others are not as privileged to have. I have witnessed the sacrifice and hard work my parents have gone through in order to provide me and my siblings with a brighter future. But most important, I have come to realize the value of opening yourself to a diverse group of people as it allows you to be more aware of the world around us."
Perhaps no one said it better than his former running teammate Brian Flight, who described the loss on his Facebook page: "Our buddy Mik is gone. And I sure wasn't ready for him to leave. I know none of us were. He was a great man and sure as hell deserved better than this. Mik will be in our hearts and minds forever, but that doesn't make it any easier to bear. We love you buddy and we'll never stop."
Our thoughts and prayers are with Mikias' family and we urge our readers to extend your support to them.
—-
You can learn more about the case and provide assistance to the family at www.mikiastibebu.com.
Video: NBC Chicago on Mikias Tefera Tibebu – Local News Coverage

View more videos at: http://nbcchicago.com.
—
Join the conversation on Twitter and Facebook.