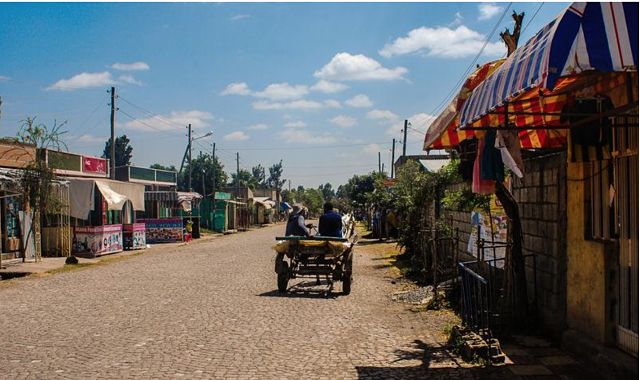 DUKEM, Ethiopia – The scenic road from Addis Ababa to the small town of Dukem is peppered with signs of industry: warehouses and factories, garages and gas stations, newly-built rail tracks and a freshly paved highway.
Dukem, just a short drive south of the capital, is home to Ethiopia's first industrial park, the Chinese-owned Eastern Industrial Zone (EIZ), and some of the country's most fertile land.
For more than a decade, it has been on the frontline of a government-led push to turn the still overwhelmingly agricultural country into Africa's manufacturing hub.
Chinese companies are constructing five industrial zones, while the government plans to have 15 industrial parks nationwide by June 2018.
Last year, the EIZ, which hosts companies ranging from shoe manufacturers and steelmakers to leather processors and car assemblers, embarked on a new expansion phase.
The move, which means expropriating an additional 167 hectares of rural land around Dukem and the relocation of around 300 farmers, has sparked anger among locals and reopened old wounds.
"We were the first," Shewangizaw, a middle-aged farmer who lost his fields to an Ethiopian-owned factory back in 2006, told the Thomson Reuters Foundation bitterly.
He and around 40 other farmers were relocated – without fair compensation, they argue – when some of the first factories arrived in the area a decade or so ago.
"I don't have any land now," said his 72 year-old neighbor, Bashada, who lost nearly five hectares of farmland then and now rents one hectare from an older neighbor for 10,000 birr ($367) a year.
The group is campaigning to have its case heard by the federal government.
"It's not fair," said Shewangizaw. "Our families were just destroyed. At the time compensation paid to us was so, so cheap. And we don't have any land to farm or live on now."
ANGRY ONCE MORE
Muhammed Tilahun, vice-head of the Dukem Land Development and Management Office, told the Thomson Reuters Foundation the local government was now addressing the concerns of farmers.
That includes 190 farmers and their children who lost their land back in 2007 and are now being given additional land to support them, he said.
Yet the anger expressed by Shewangizaw and his fellow farmers is echoed across much of central Ethiopia, which has experienced rapid urbanization and fledgling industrialization over the past decade.
—
Join the conversation on Twitter and Facebook.