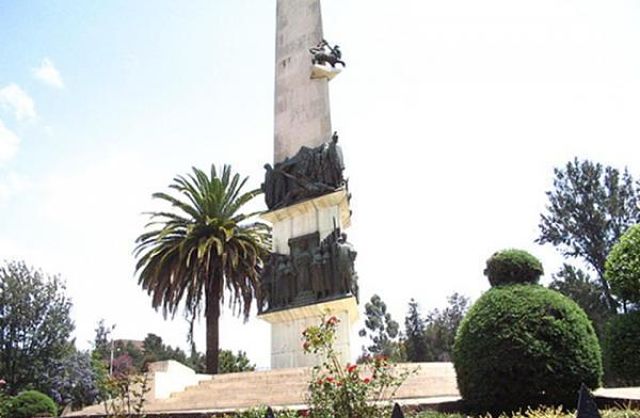 Tadias Magazine
By Tadias Staff
February 2nd, 2018
New York (TADIAS) — It was 81 years ago this month that the invading Fascist Italian troops went on a killing rampage in Ethiopia that claimed over a million lives including at least 30,000 within a 3-day period who were murdered in Addis Ababa. In addition many churches and homes were burned. The violent campaign was waged in retaliation for the attempted assassination of Rodolfo Graziani, Italian dictator Benito Mussolini's top Ethiopia enforcer, by Abrham Deboch and Moges Asgedom.
Ethiopians eventually won the war, but not before the war criminal Graziani left a permanent mark with his wanton brutality now remembered by Ethiopians as the Yekatit 12 massacre.
"The Vatican blessed the Italian invasion as if it were a holy mission," says the announcement from the Ethiopian Community Mutual Assistance Association (ECMAA), which is co-sponsoring an upcoming event in New York marking the 81st anniversary of Yekatit 12th. "This historically forgotten genocide perpetrated against Ethiopians took place during 1935-41."
The event is scheduled to be held on February 18th at Adam Clayton Powell Jr. State Office Building in Harlem. ECMAA says the gathering will feature speakers including Professor Getatchew Haile and Dr. Habtamu Tegegne as well as selected Amharic poetry readings.
ECMAA adds that its demanding: "The payment of adequate reparations by the Italian Government to Ethiopia; a Vatican apology to the Ethiopian people for its complicity with Fascist Italy; Restitution of looted Ethiopian properties by the Italian and Vatican Governments; Inclusion in the United Nations records of the Fascist war crimes in Ethiopia; and the dismantlement of the Graziani monument inaugurated at Affile in the presence of a Vatican representative."
—
If You Go:
The 81st Anniversary of "Yekatit 12th"
February 18, 2018
from 3:00PM-7:00PM
Adam Clayton Powell Jr. State Office Building
163 West 125th Street, 2nd floor
New York, New York 10027
(Near 2,3,A,B,C,D subway lines)
Co-sponsored by: Ethiopian Community Mutual Assistance Association
Join the conversation on Twitter and Facebook.