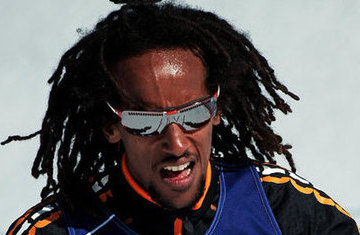 Above: Ethiopia's only winter Olympian Robel Teklemariam is
giving it second try, scheduled to compete in the Vancouver
Olympics later this month, hoping to improve his 84th-spot
finish 4 years ago in Italy. (Photo: Getty Images)
Tadias Magazine
By Tadias Staff
Published: Tuesday, February 2, 2010.
New York (Tadias) – Robel Teklemariam, Ethiopia's only winter Olympian who represented his country at the 2006 Torino games, will participate in the 2010 Winter Olympics in Vancouver, which will open on February 12th.
The cross-country skier, who graced the print cover of Tadias Magazine in 2006, said then that his motivation to represent Ethiopia comes from the 1960 Olympic Games in Rome. The event was filled with unforgettable highlights. Cassius M. Clay (Muhammed Ali) emerged to win the light-heavyweight gold medal in boxing. Wilma Rudolph, the 20th of 22 children in her family, became the first American woman to win three gold medals in athletics in one Olympiad. Clement Quartey of Ghana became the first black African to win an Olympic medal after competing in the light-welterweight boxing category. But it was Abebe Bikila of Ethiopia who stole the show. Five days after Quartey's triumph, Bikila ran the marathon barefoot and won the gold medal to become the first black African Olympic champion. Running past the plundered Axum obelisk that stood in a Roman square one kilometer from the finish line, Abebe Bikila cruised to victory in world record time, hailing Ethiopia and Africa into the spotlight. Since that time, many legendary runners have emerged from Ethiopia to succeed Bikila as Olympic champions, but Robel is the first winter Olympian aiming to follow suit.
It was precisely this legacy that inspired Robel Teklemariam in his teenage years to become an Olympic athlete. Born in Addis Ababa in 1974, Robel moved with his mother to New York in 1983. In the summer of 1986 he enrolled at a boarding school in Lake Placid, NY, host city to the 1980 Olympic Winter Games. Surrounded by Olympic emblems commemorating the 37 nations and 1,072 athletes that participated in the XIII Winter Games, it was easy for Robel to immerse himself into skiing at the age of 12. As a newly arrived immigrant, the tough beginning of life at a New York City school was made easier when Robel discovered sports as his hobby and soon thereafter as his prime passion.
"Really, my goal for Vancouver is to improve my time behind the winner and have a better race than in Turin," Robel said in a recent interview with CBC (Canada). "As far as results, I really want Ethiopia to be a mainstay in winter sports. I don't want be the first and last Ethiopian at the Winter Olympics. I don't want it to end with me."
And he hopes that someone will soon follow in his footsteps.
"There are over one million Ethiopians living overseas, all over Scandinavia, all over Canada and the United States, I am pretty sure there will be some young kid who will want to race eventually, and that really is my goal at the end of the day."
Watch Video: Meet Cross Country Skier Robel Teklemariam

New York Times Video:
Robel Teklemariam, the first Ethiopian Winter Olympian, discusses his path
to becoming a ski racer and his mission to represent Ethiopia in the 2006
Olympic Games. Click here to watch the video.