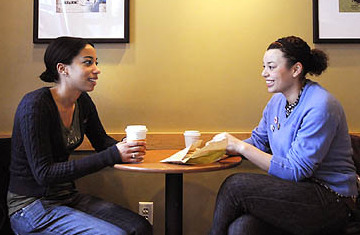 Above: Roommates Heather Curry, left, and Erica Stewart
chat between college classes at Starbucks in Market
Square. (Steve Mellon/Post-Gazette)
Pittsburgh Post-Gazette
By L.A. Johnson
Tuesday, February 03, 2009
Heather Curry believes President Barack Obama is denying his white heritage by identifying himself as African-American.
"It's great that he's biracial," says Ms. Curry, 19, a Point Park University advertising major who identifies herself as biracial. "I wish he would accept it a little bit more."
The election of Mr. Obama — the son of a white woman from Kansas and a man from Kenya — has jump-started a national dialogue on race and racial identity as America's view of multiracial people changes.
Mr. Obama always has acknowledged his biracial background but identifies himself as African-American. With Mr. Obama, people see who and what they want to see, says Joy M. Zarembka, the Washington, D.C.-based author of "The Pigment of Your Imagination: Mixed Race in a Global Society." "And most everyone can relate to him — whether [they're] white, black, rich, poor, foreign, American, etc."
People often look at multiracial people and highlight whatever aspect of their background makes them feel most comfortable. Read More.