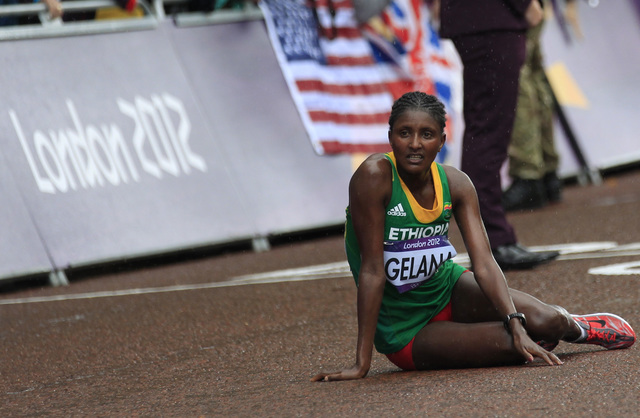 Tadias Magazine
News Update
Monday, February 4, 2013
New York (TADIAS) – Tiki Gelana, 25, winner of the women's marathon at the London Olympic Games last summer, has been named World Athlete of the Year for 2012 by the Association of International Marathons and Distance Races (AIMS). She was given the award at a ceremony in Japan on Sunday becoming the first Ethiopian woman to receive the coveted long-distance running prize that comes with a Golden Shoe sponsored by the athletic footwear company ASICS.
Previous Ethiopian winners of the prestigious award include her male compatriots Gezahenge Abera in 2000 and Haile Gebrselassie in 2006, 2007 and 2008.
"President Emeritus of AIMS Hiroaki Chosa and AIMS Board Member and Vice President of the Japanese Athletics Federation Dr Keisuke Sawaki presented Gelana with the acclaimed Golden Shoe Trophy during an awards ceremony after she had won the Kagawa Marugame Half Marathon earlier in the day," reported the International Association of Athletics Federations.
"She started 2012 with a runaway win and personal best of 1:08:48 in the Marugame Half Marathon but that was just a warm-up for a decisive five-minute victory in the Rotterdam Marathon, where she became the fifth woman to break 2:19 for the distance when she ran a national record of 2:18:58."
Click here to read more at IAAF.org.
In Pictures: Tiki Gelana Wins Gold Medal at the 2012 London Olympic Women's Marathon

—
Related:
Tiki Gelana Was Ready For The London Olympic Marathon (Runner's World)
—
Join the conversation on Twitter and Facebook.