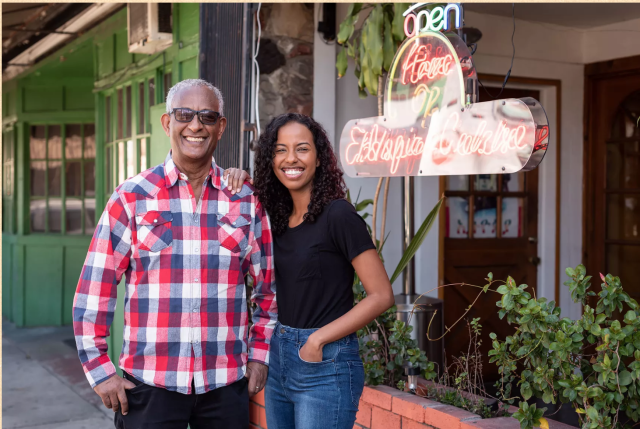 LA Eater
Look closer at the restaurants on Fairfax Avenue with its founding family
The heavily trafficked stretch of Ethiopian-owned businesses along Fairfax Avenue goes by a few different names. It was initially known as Little Addis — a nod to Ethiopia's capital city of Addis Ababa — when entrepreneurial Ethiopians began laying down roots between Olympic Boulevard and Whitworth Drive in the late '80s and early '90s. As the number of restaurants, grocers, clothiers, and salons grew along the corridor, the street was officially anointed Little Ethiopia by the Los Angeles City Council in 2002. But 68-year-old Fekere Gebre-Mariam and his youngest daughter, Meklit, simply call this neighborhood home.
Fairfax Avenue was in a state of transition when Fekere opened the first Ethiopian restaurant there in 1989. The area had previously been known for its thriving Orthodox Jewish community and an accompanying collection of largely Jewish businesses. But over time, the commercial cluster began to wane as owners retired and younger generations grew disinterested in continuing their families' traditions. The block's fast-changing demographics and dynamics provided the all-important real estate to make Fekere's dream of establishing a nucleus for LA's Ethiopian community a reality. In the years following the opening of Rosalind's Restaurant, Fekere wooed more Ethiopian businesses to settle on the street and played an instrumental role in nurturing what would ultimately grow into Little Ethiopia.
The area was by all accounts burgeoning by the time Meklit was born in 1993. She grew up among the storefronts on Fairfax and remembers the streets brimming every September in celebration of the Ethiopian new year and running into friends and family every Sunday following church services. And she'll never forget when she — an 11-year-old self-proclaimed tomboy — was crowned Miss Little Ethiopia in 2004. She donned a fabulous flowy traditional Ethiopian dress and rode through the heart of Little Ethiopia in a top-down convertible waving her hands and grinning from ear to ear in an official parade.
"This is our family's legacy, my dad's legacy," says Meklit. "There's a little bit of LA that will always have a part of him and our family."
Nobody knows the history of Little Ethiopia better than Fekere, and nobody understands its vibrant soul like Meklit, so Eater LA tapped this father-daughter duo to show us around the block — sharing some about its founding and a bit about where it's going — all while touring their go-to restaurants for tongue-tinglingly, throat-clenchingly spicy food. Let's get right to it.
Rosalind's Restaurant
The way Fekere remembers it, Little Ethiopia was inspired by Koreatown. After finishing his undergraduate degree at USC, he lived in an apartment on Kingsley between Wilshire and Eighth and observed firsthand as the Korean community flourished north of Olympic Boulevard. At first, the newly opened restaurants and markets only filled a few strip malls, but soon businesses ballooned to occupy entire city blocks and ultimately three square miles of the city. "We [saw] how Koreatown was growing by the year and then we say, 'Wow, that is interesting. Why don't we have our own area? Why don't we have our own restaurants?'" he says. "So that thing was going through my mind for a while." This audacious idea stayed with Fekere as he pursued a career in real estate following college.
Fekere purchased the original Rosalind's West African Cuisine from its owners in 1988 when a client's deal fell through on the La Cienega space. But when the building's owner took it over after a year of business, Rosalind's moved to its current digs on Fairfax Avenue. The restaurant's original menu carried over with the relocation and included specialties from Ghana, Nigeria, and Liberia, in addition to Ethiopian standbys. The restaurant eventually streamlined its offerings as demand for Ethiopian cuisine grew along with the local Ethiopian population.
—
Related:
Review: How the Pandemic Has Changed Ethiopian Dining in DC Area, For Now
Join the conversation on Twitter and Facebook.