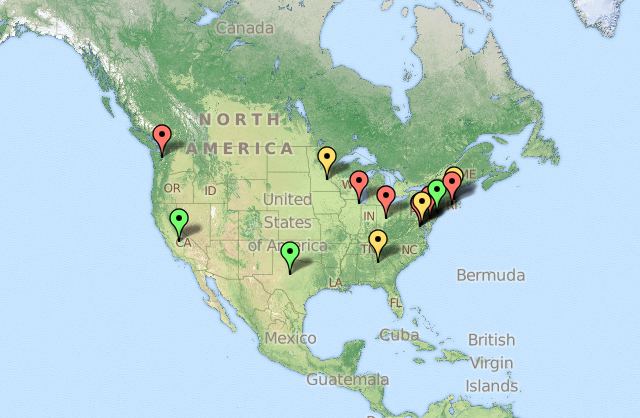 Tadias Magazine
By Tadias Staff
Published: Monday, February 9th, 2015
New York (TADIAS) – According to the U.S. Census Bureau New York, California and Texas are the top three states that are home to the majority of residents from the African continent. A five-year estimate of the American Community Survey released last year indicates that there are currently 1.6 million foreign-born Africans residing in the United States. And people from the three most populous countries in Africa — Nigeria, Egypt and Ethiopia — also make up the three biggest African-born populations in America: Nigeria (14%), Ethiopia (10.4%), and Egypt (9%). Some of the major metropolitan areas with sizable African communities include New York City, Washington, D.C., Baltimore, Columbus, Philadelphia, Providence, Wilmington, Minneapolis-St Paul, Seattle, Dallas-Fort Worth, Houston, Atlanta, Chicago, Boston, Los Angeles, San Francisco, Oakland and Fremont.
The numbers further show that foreign-born Africans in the United States tend to be more educated in comparison with other recent immigrant groups. In New York, for example, where the largest number of African immigrants live, The New York Times points out that "30 percent of African-born blacks in [NYC] had a college degree, compared with 22 percent of native-born blacks, 18 percent of Caribbean-born blacks and 19 percent of the nonblack foreign born." On a national level, according to the same census, 41% of the African-born population in the United States obtained bachelor's degrees or higher between 2008 and 2012 compared with 28% of the overall foreign-born U.S. population.
The following is an interactive map that illustrates the geographic distribution of the African Diaspora across the U.S. along with the top ten leading countries of birth for each highlighted region based on data gleaned from the American Community Survey.
Hover over the colored flags and click to see more details for the specific location:

—
Join the conversation on Twitter and Facebook.