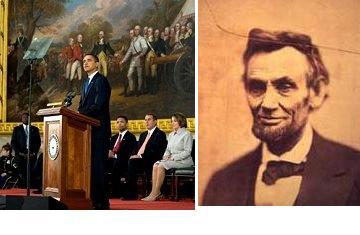 Above: Left: President Obama speaks during Lincoln
Bicentennial Celebration in Rotunda of US Capitol in Washington,
DC, 12 Feb 2009 (AFP Photo). Right: Abraham Lincoln, 1865
Alexander Gardner, Albumen silver print (National Portrait Gallery)
VOA
By Cindy Saine
Washington
12 February 2009
President Barack Obama has often said that one of his heroes is America's 16th president, Abraham Lincoln.
President Obama has made no secret of his admiration for Abraham Lincoln, often invoking his name and his memory. Mr. Obama kicked off his presidential campaign two years ago at the Old State Capitol in Springfield, Illinois where Mr. Lincoln gave his famous "House Divided" speech.
When Barack Obama took the oath of office last month, he put his hand on the same Bible Abraham Lincoln used to swear his oath.
Wednesday, Mr. Obama attended a performance at Ford's Theatre in Washington, where President Lincoln was assassinated in 1865. He told the crowd that even in the middle of the American Civil War, Lincoln insisted on finishing the U.S. Capitol building as a symbol of unity.
"It is this sense of unity that is so much a part of Lincoln's legacy," Mr. Obama said. "For despite all that divided us – north and south, black and white – he had an unyielding belief that we were, at heart, one nation, and one people."
Acclaimed presidential historian Doris Kearns Goodwin says she believes Mr. Obama feels a genuine connection to Abraham Lincoln. Read More.