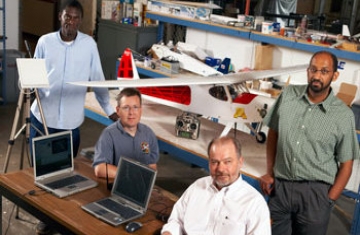 Above: Standing far right – Professor Demoz Gebre-Egziabher's
area of research is in navigation, guidance and control of aero-
space vehicles. A particular focus of his research is the applica-
tion of estimation theory to the development of algorithms and
design methodologies to optimally fuse the information from
multiple sensors and systems. One of the challenges encountered
when dealing with such problems for aerospace applications (where
safety of life is an issue) is being able to precisely quantify (in stat-
istical terms) the level of reliability of the algorithms and systems.
Example of engineering application of his work are in the development
of attitude determination systems for satellites, high accuracy
navigation of aircraft and evaluating operations of small autonomous
aerial vehicles in the national airspace system. (Photo: umn.edu)
MN Daily
BY Tiffany Smith
PUBLISHED: 02/11/2009
The University of Minnesota's entry into January's final University Nanosatellite Program competition won't be launched into space.
However, the U.S. Air Force has selected the University team to participate again. Team members are already recruiting new students, while some are still working on satellite components to use for the next two-year competition cycle, Nanosat-6.
The program has two aims: training students to build satellites and provide the Air Force with useful research, aerospace engineering and mechanics associate professor Demoz Gebre-Egziabher said.

Professor Demoz Gebre-Egziabher
As the faculty adviser, he's responsible for pitching an idea for the satellite's science mission. Read More.