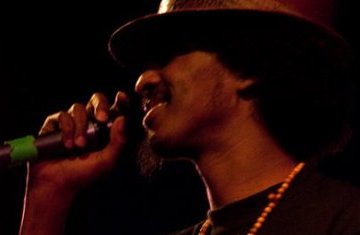 Recap: K'Naan at The Annex
Madison Decider
by Scott Gordon February 11, 2009
K'Naan played hip-hop, several styles of African music, and lavish pop hooks Tuesday at The Annex, and his stage presence didn't recall a typical MC. Even when he told the crowd, "I'll be quite honest with you, I'm not feeling the energy in here," he didn't sound like a rapper trying to bark his audience into an exaggerated frenzy. "We don't make imposition music," he explained. He emphasizes musical variety over all that tiresome "Lemme hear ya say HO-OOO!" business. The Somali-Canadian singer-rapper and band had a lot of territory to cover, from songs of freedom to rapped boasts about making "50 Cent look like Limp Bizkit" (probably nothing Fiddy couldn't do for himself, but witty all the same), from old African-music samples to triumphantly over-the-top guitar solos. Read more.