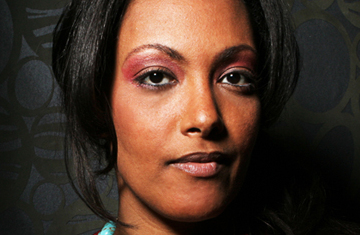 Above: Wayna's "Lovin You (Music)" was nominated for a
Grammy for best urban/alternative performance. She did not
win. But for the African artist just being nominated for a
Grammy was a big achievement.
(Photo: baltimoresun.com)

VOA
By Henok Semaegzer Fente
Washington, D.C.
12 February 2009
At the 51st Grammy music award last Sunday, the best of the industry were recognized for their achievements. The highlight of the televised event featured, nine months pregnant rapper M.I.A, who took center stage to perform her hit song "swagga like us".
This song brought together what entertainer Queen Latifa called "a rap pack" — featuring Kanye West, T.I., Jay-Z, and Lil Wayne.
But this night was not only about the big shot artists. It also gave recognition to young and emerging talents.She did not win. But for African artist Wayna Wondossen, just being nominated for a Grammy was a big achievement. She was in South Africa when she found out that her song "Lovin' U" had been nominated.
"I knew I wouldn't be able to see the actual announcements because we were in a remote area of Cape Town [South Africa] and we probably wouldn't get the broadcast there. So early in the morning the next day, I got up early and ran downstairs to the hotel business center. I went straight to the Grammy pages to search for my name and it popped-up and I just screamed," she said.
The winner of the category in the category Best Urban/Alternative Performance was "be ok" by Chrisette Michele, featuring will.i.am. But for Wayna, it has been a good year anyway, and the nomination alone was an honor. Read more.
Related: Three Acts Win Big at the Grammys
NYT
By BEN SISARIO
Published: February 8, 2009
LOS ANGELES — At the 51st annual Grammy Awards ceremony, at Staples Center here on Sunday night, three disparate acts were in a close race, with hard-core rap, rock and an album of lush Americana vying for the top award.
But it was Robert Plant and Alison Krauss who won album of the year — for a total of five awards — for "Raising Sand" (Rounder), their album of luxuriant renditions of old rockabilly and country songs as well as original material. Lil Wayne, the bawdy and gifted New Orleans rapper, had a total of three, including one for a four-way collaboration. The British rock band Coldplay also had three awards. Read More.
Tadias: Wayna: A Soulful Diva in the Making



By Tseday Alehegn
Tadias Staff Writer
New York (Tadias) – Friends and family may know Woyneab Miraf Wondwossen (Wayna) as the young University of Maryland alumna who double majored in English and Speech Communications, and went on to serve as one of the first Ethiopian American researchers at the White House under Former President Bill Clinton.
Recently, however, Wayna has waded into new waters and is beginning to make a name for herself among America's favorite musicians. She's nominated for a Grammy.
Wayna's sophomore album Higher Ground, which propelled her to the prestigious nomination, was released in 2008. The new album, just like her debut CD Moments of Clarity, is an infectious blend of original songs that fuses soul, world, and hip hop sounds accompanied by lyrics on love, loss, faith and courage.
"I've poured some of the hardest lessons I've had to learn into these songs," Wayna divulges. Music has always been one of Wayna's deep-seated passions, and her most recent tunes echo her personal struggles, hopes and victories through her own unique and passionate voice. Asked how she views herself and her work, she replies, "I would define myself as an artist who is constantly growing and searching for new ways to express myself vocally, lyrically, and musically. I search for the feeling of losing myself in a song, to create timeless music that speaks to people's hearts and conveys important messages."
Born in Ethiopia, Wayna immigrated with her family to the United States when she was just a toddler. As a young girl, she chased after her love of music by starring in popular musical theater productions like Annie, The Boyfriend, and Damn Yankees, as well as by touring with the children's musical revue company Songs, Inc. Her college years continued to be a time of musical experimentation as she taught herself to play piano on the old Steinway in her dormitory. After being crowned Miss Black Unity of the University of Maryland and earning a one-year tuition scholarship, she went on to start a gospel quartet. The successful and talented quartet performed at the world renowned Apollo Theater in Harlem, New York, where they placed as finalist in the Amateur Night competition.
Wayna soon received several opportunities to travel as a soloist with the gospel choir all the while unearthing her talent in singing. But it was after being invited to perform at her university's annual tradition, A Tribute to African Women, that Wayna ended up writing the ballad that became her first original piece performed for an audience.
"On that day," she recalls, "music became more than a form of entertainment or a source of comfort to me. I began to see it as a tool to heal and inspire people, including myself."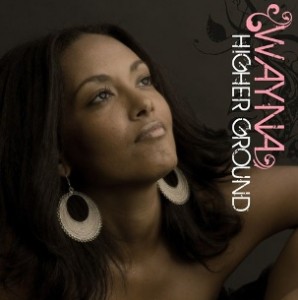 Asked to identify her role models in the music world, Wayna chooses the colorful sounds of Chaka Khan, Donnie Hathaway, Billy Holiday, Stevie Wonder and the '70s soul singer Minnie Riperton. She also enjoys listening to contemporary artists ranging from the soulful voices of D'Angelo and Jill Scott to emerging spoken word performer W. Ellington Felton.
For her personal role models, Wayna selects her mom Tidenkialesh Emagnu and her late aunt Yeshi Immebet Imagnu.
"It wasn't always easy growing up as an Ethiopian-American, especially at the time I was coming of age," she confesses. "Because there were far fewer of us here — far different from the experience Ethiopian teenagers have today."
Remembering the strength and encouragement her family gave her, Wayna recounts lessons she learned at a young age:
"My aunt Yeshie Imagnu made it a point to teach me elements of our history and culture that weren't obvious just by living in an Ethiopian home. And my mom, though she has resided in the U.S. for 25 years, is one of the truest representations of our culture that I've ever encountered," she says with pride.
Now that she is older, she says she wears her Ethiopian-ness like a badge of honor.
"In fact, I've promised myself I will not go on stage unless I'm wearing at least one article of Ethiopian clothing or jewelry," she adds. "It's a symbol of who I am."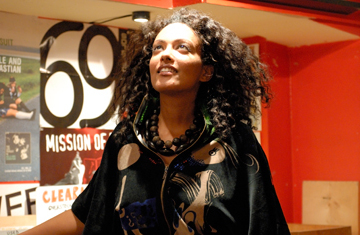 In the end, what Wayna teaches us all is far deeper than her lifelong love of song; she teaches us to excel in every aspect of our lives.
"I would encourage Tadias readers to explore all their interests and talents — not just the ones that are validated by our community," she says.
"What do you wake up thinking about in the middle of the night? What did you love doing for hours on end as a child? Those things are our passions, and we owe it to ourselves and our creator to develop and share them with the world."
In short, she says, "There's absolutely nothing we can't do."
Tadias Magazine congratulates Wayna on her nomination.
VIDEO: Watch Wayna's debut video, "My Love":

You can purchase her new CD at Amazon.com