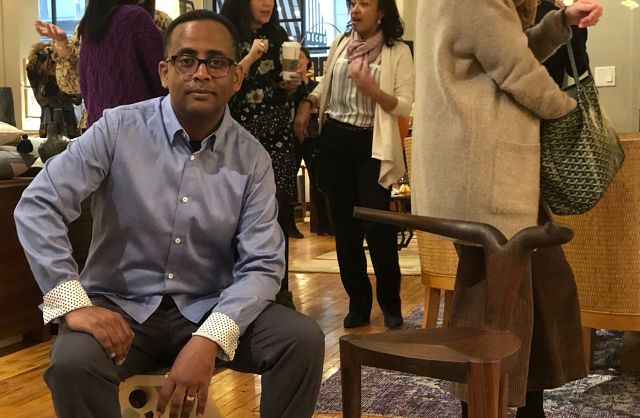 Tadias Magazine
Tadias Staff
Updated: February 12th, 2019
New York (TADIAS) — From the Nyala chair — inspired by the mountain antelope that is endemic to Ethiopia– to the Kebero and Mukecha stools as well as the Ashanti seats from Ghana and the Maasai chair from Kenya, there is nothing like Jomo design when it comes to contemporary furniture style representing a diverse array of African aesthetics.
Jomo Furniture, founded by Ethiopian American designer and entrepreneur Jomo Tariku, was featured in New York City at the spring preview of the Black Artist & Designers Guild (BADG), which was held on Tuesday, February 12th at Décor NYC in the Chelsea neighborhood of Manhattan.
"BADG (Black Artists + Designers Guild) is a curated collective of Black Artists and Designers throughout the African diaspora," states the organization's website. "We create contemporary art, textiles, furniture, interiors, and architecture for bespoke residential, commercial and hospitality spaces."
BADG's site adds that their mission is to "create a global platform showcasing the works of Black Artists + Designers of the African diaspora who are passionate about creating art, home furnishings, interior and exterior spaces around the world."
In addition to Jomo Furniture the spring preview also included works by Malene B. Atelier (ceramics), Lisa Hunt (fine art), Kelly Marshall (photography), Nasozi Kakembo (textiles), Marie Burgos (furniture), Livvy & Neva (pillows), Sheila Bridges Home (wallpaper), Da Brand (home accessories), and Studio Lani (Lighting).
In 2015 a book published by Thames & Hudson titled, Contemporary Design Africa — the first of its kind — dedicated a section for Jomo's designs along with fifty artists from Africa and the Diaspora "all of whom are creating sophisticated and innovative products for interiors."
Jomo tells us that his furniture is available for licensing, and the designs could be manufactured for any potential large orders including "pieces for lodges and hotels as well as any residences that want to create unique spaces." We couldn't agree more.
—
You can learn more about Jomo Furniture at www.jomofurniture.com.
Join the conversation on Twitter and Facebook.