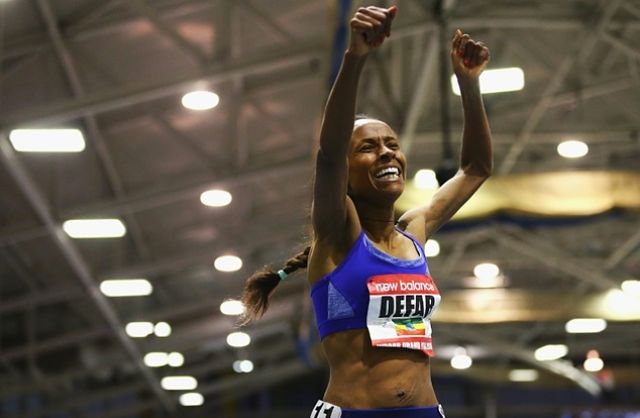 Meseret Defar was gunning for her own 11-year-old meeting record of 8:30.05 in the women's 3000m at the New Balance Indoor Grand Prix, the second IAAF World Indoor Tour event of 2016, and she came tantalisingly close to it in her first race on a track since 2013, running a world-leading 8:30.83 on Sunday (14).
"I didn't have the confidence to push hard in the middle of the race after so long away," Defar explained after her run in the Reggie Lewis Track and Athletics Center in the Boston suburb of Roxbury.
"Now, after the race, I feel my confidence rising. I want to prepare for the World Indoor Championships," where she is a four-time world indoor champion over 15 laps of the track.
In a pre-meeting press conference on Friday in a city she referred to as her "second home", and where she has now won eight times in nine appearances starting in 2002, the much-decorated Defar had outlined ambitious goals for a comeback which hadn't yet truly begun.
However, in the mixed zone after her victory, the reality that they might just be in reach was beginning to settle on her.
"This," Ethiopia's two-time Olympic 5000m champion continued, with utter seriousness, "was the biggest race of my life."
World junior champion Dawit Seyaum went in to the women's 1500m gunning for the meeting record of 3:59.98 but just slid off the pace in the middle of the race.
—
Related:
Defar makes triumphant return in Boston
Join the conversation on Twitter and Facebook.