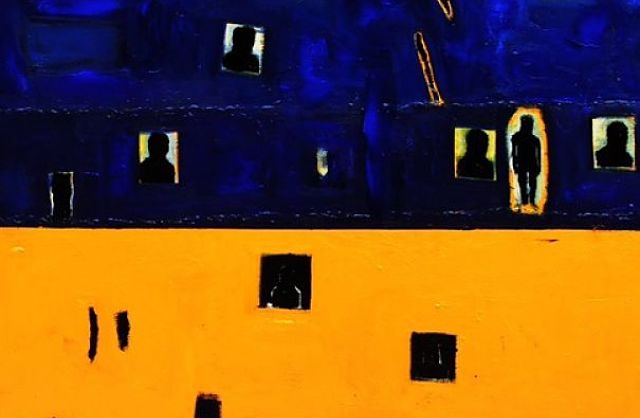 Tadias Magazine
By Tadias Staff
Published: Friday, February 12th, 2016
New York (TADIAS) — Ethiopian artist Emanuel Tegene will be featured at the upcoming 2016 Armory Show, an international art exhibition taking place March 3-6th in New York City.
Emanuel Tegene, represented at the Armory Show by Addis Fine Art Gallery, "received training at Alle School of Fine Arts and Design in 2008. While at Alle, he worked for Saloon Ethiopia as a cartoonist, challenging himself to create subtle and elegant illustrations. Later working on projects as diverse as movie storyboards and book covers, he widened his practice as a way of evolving his language of artistic expression. Briefly traveling to Israel to live with his father, he continued to paint while working in the technology industry. Eventually he returned to Addis to live with his young son and wife, where he continues to practice as an artist, realizing his natural affinity to drawing and to recording his surroundings. As part of a movement of contemporary Ethiopian artists, Emanuel is largely occupied with exploring the possibilities created by artists who are responding to the changing cultural dynamics of the society around them."
Emanuel's artwork has been exhibited at the Ethiopian National Gallery, as well as at the African Union Golden Jubilee, the Institute of Ethiopian Studies Museum, and the Italian Cultural Institute in Addis Ababa. Additional solo exhibitions showcased Emanuel's work at Tobya Art Gallery in Seattle, and Galany Gallery and Alliance Ethio-Française in Addis.
According to the Armory Show website, "this year's Focus will examine the artistic developments and manifold narratives arising from African and African Diasporic artists, emphasizing geographic fluidity and global connections."
In 2015, Ethiopian Artist Elias Sime participated in the annual exhibition with his sculptures cited by Artspace as one of the 10 Best Artworks of the 2015 Armory Show.
—
If You Go:
March 3-6, 2016
Piers 92 & 94
New York City
www.thearmoryshow.com
Join the conversation on Twitter and Facebook.