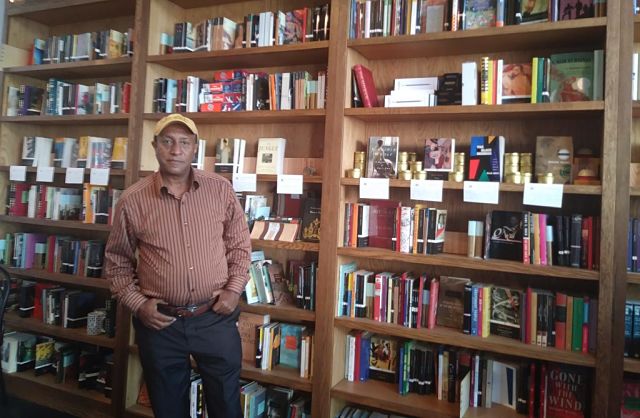 Tadias Magazine
By Tadias Staff
Published: February 16th, 2019
New York (TADIAS) — If it was up to Ahmedin Mohamed Nasser — an Ethiopian-American social entrepreneur in Oakland, California who is the Founder of the Library Information Foundation For Ethiopia (LIFFE) — every child in his native country would have free access to a library and computer within walking distance of their home. The motto on his organization's website says it all: "A country that reads is a country that leads."
The vision for the foundation started more than two decades ago. At the time Ahmedin was a recent graduate of Cal State Hayward University where he studied accounting. Soon after graduation he organized a group of friends and enlisted Stanford University to ship 5,000 new books to Addis Ababa University, including his own college textbooks.
Since then Ahmedin's non-profit organization has opened 22 libraries in Ethiopia, including at Sululta, Dejen, Bethlehem D/Zeyt, and Mekane Iyasus D/Zeyt Secondary Schools, the Future Generation Schools in Kara Kore, Kore Lafto, Mekanisa and Ambo, as well as Azezo Higher Preparatory School in Gondar, Afar Semera University and Kaliti Prison.
Ahmedin who is preparing to go to Ethiopia this month tells Tadias that his next project will focus on opening a library at a high school in Jimma.
Ahmedin's work to establish libraries across Ethiopia has been compared to that of Andrew Carnegie, albeit without the American steel magnate's unlimited financial resources. "At the dawn of the 20th Century, wealthy industrialist Andrew Carnegie began creating his legacy by building libraries across this country," the CBS owned KPIX-TV in San Francisco enthused in local broadcast featuring Ahmedin's work a year and half ago. "That's sort of what Ahmedin Mohammed Nasser has done, but he laughs when asked if he's a wealthy man." KPIX added: "His is a legacy created not from the wallet, but from the human heart."
"Without libraries what have we?," the late American author and screenwriter Ray Bradbury once famously mused. "We have no past and no future."
—
To learn more about Ahmedin's foundation and get involved please visit www.1liffe.org.
Related:
Watch: Oakland Man Sends Books, Computers To Ethiopia, Creating 22 Libraries (KPIX CBS SF Bay Area)
Join the conversation on Twitter and Facebook