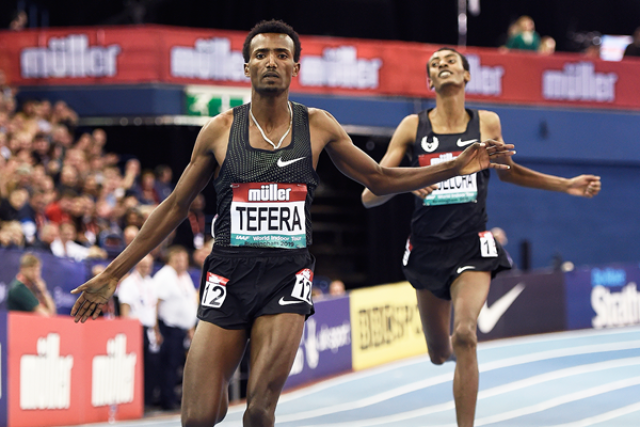 Reuters
Ethiopia's Tefera breaks world indoor 1,500m record
Ethiopia's Samuel Tefera broke the long-standing world indoor 1,500 metres record when he clocked three minutes, 31.04 seconds at the IAAF World Indoor Tour meeting in Birmingham, England on Saturday.
Morocco's Hicham El Guerrouj set the previous record of 3:31.18 in 1997.
TEFERA BREAKS WORLD INDOOR 1500M RECORD IN BIRMINGHAM, UK (IAAF)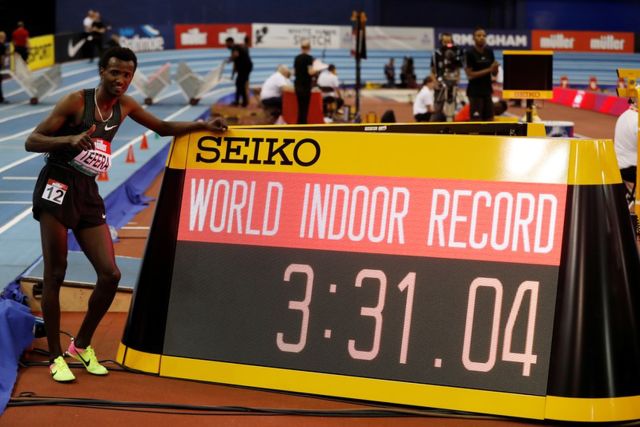 Ethiopia's Samuel Tefera poses with his world record time after winning the 1,500m final at the indoor athletics Grand Prix at Arena Birmingham. (Getty Images)
IAAF
Ethiopia's Samuel Tefera tore up the script for the Muller Indoor Grand Prix Birmingham, upstaging compatriot Yomif Kejelcha to break the long-standing world indoor 1500m record* at the IAAF World Indoor Tour meeting on Saturday (16).
Kejelcha, who last week came within 0.01 of the world indoor mile record at the Millrose Games, had announced his intentions to break the 1500m mark ahead of his race in Birmingham. But Tefera, the world indoor champion at the distance, had a plan of his own.
The pacemakers hit their required target times with Bram Som taking the field through 400m in 55.69 and Jordan Williamsz leading them through 1000m in 2:21.27.
With the pacemakers having done their job, Kejelcha reached 1200m in 2:49.28 and was still on course to challenge the record, but Tefera was tucked close behind and looked ominously comfortable with the pace. Australia's Stewart McSweyn was a few strides adrift in third place while Kenyan duo Bethwel Birgen and Vincent Kibet were further behind.
The clock ticked through 3:03 as the bell sounded for the final lap and Tefera made his move, kicking past Kejelcha to take the lead and leaving his compatriot unable to respond. Tefera charged towards the line and stopped the clock at 3:31.04, taking 0.14 off the previous record set by Hicham El Guerrouj in 1997.
Kejelcha finished second in an outright personal best of 3:31.58 while McSweyn held on to third place with an Oceanian indoor record of 3:35.10.
"I can't believe that," said Tefera. "I'm delighted with the outcome and to have the world record is a special feeling."
—
Join the conversation on Twitter and Facebook