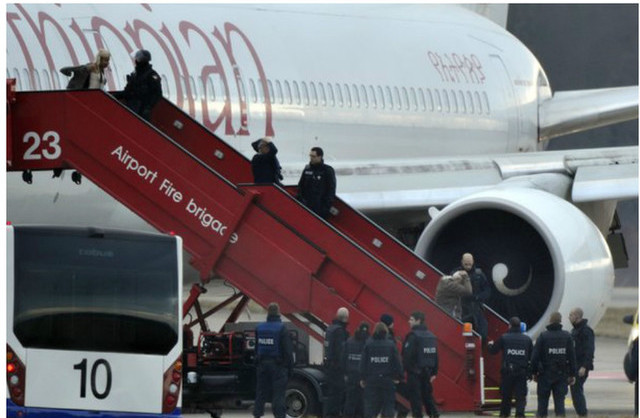 By Nick Cumming-Bruce
February 17th, 2014
GENEVA — The co-pilot of an Ethiopian Airlines passenger jet en route to Rome from Ethiopia seized control of the Boeing 767-300 early on Monday and flew it to Geneva, where he asked for asylum, a spokesman for the Geneva police said.
The plane landed safely, and none of the 202 passengers and crew members on Flight ET-702, which originated in Addis Ababa, the Ethiopian capital, were injured, the police spokesman, Eric Grandjean, said. "Everybody was safe from beginning to end — no problem," he added. Other officials said passengers were unaware of the hijacking until the plane landed in Switzerland.
The plane was in Italian airspace when the co-pilot, an Ethiopian national who was not immediately identified, took the controls after the pilot left the cockpit to use the restroom. After locking the cockpit door, he initially told Italian air controllers that he needed fuel, but then activated a transponder to signal that the plane was being hijacked, Mr. Grandjean said. Italian fighter jets were scrambled, and they escorted the aircraft out of Italian airspace.
The plane landed in Geneva at 6:02 a.m. and continued to a taxiway, where the co-pilot turned off the engines, opened the cockpit window and lowered himself to the tarmac with a rope, officials said. He then ran toward security officers and identified himself as the hijacker, declared that he was in danger in Ethiopia and requested asylum, the officials added.
Read more at The New York Times.

—
Related:
Ethiopia Pilot Was Distraught Over Death in Family (AP)
Hear Cockpit Audio From ET-702 Hijacking (CNN Video)
Evacuation of Ethiopian Airlines plane 'went well' (BBC News)
Rome-bound Ethiopian flight hijacked by co-pilot (AP)
Join the conversation on Twitter and Facebook.