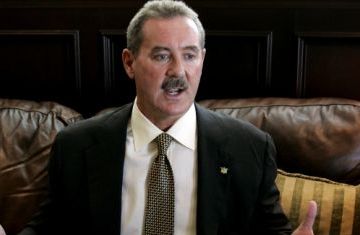 F.B.I. Locates Texas Financier in Virginia
NYT
By ERIC LICHTBLAU
Published: February 19, 2009
WASHINGTON — Two days after he was accused of running an $8 billion financial fraud, Texas financier Robert Allen Stanford was found by federal agents Thursday and served with civil papers in a multibillion-dollar fraud case.
Mr. Stanford is not facing criminal charges, and he was not taken into custody after agents with the Federal Bureau of Investigation found him in Fredericksburg, Va., officials said. The FBI did not say how its agents located Mr. Stanford.
His whereabouts had been unknown since the Securities and Exchange Commission brought a civil lawsuit against him on Tuesday charging that he and his company, the Stanford Group, had engaged in widespread fraud in the sale of high-yield certificates of deposit held in the company's bank in Antigua. Read More.
Texas Town Holds Roots of Empire
NYT
By GRETEL C. KOVACH
Published: February 19, 2009
MEXIA, Tex. — When Robert Allen Stanford began planting the seeds of his multibillion-dollar financial empire decades ago, he turned to a family friend here in his hometown, population 6,600, to fill a seat on the board.
Today, Oliver Goswick — a small-time car dealer with a high school education — oversees investments for the board of Stanford International Bank, according to the company's most recent annual report.
But, Mr. Goswick's son says, his father is not in a position to provide much oversight. "My father had a stroke in 2000 and has been unable to talk or communicate much for a multiple of years," said Dick Goswick, explaining that be believes his father has been kept in a post normally considered pivotal to any bank's operations out of respect for his long ties to the Stanford family.
For a global financial business based in Antigua, Stanford International in some ways has a surprisingly parochial flavor. Mr. Stanford, the Texas financier whom regulators this week accused of running an $8 billion fraud, left his hometown years ago, but his roots run deep here. Read More.