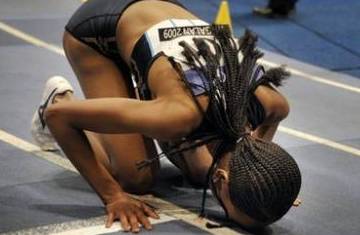 Above: Ethiopian runner Meseret Defar kisses the track
after setting a world record for the indoor 5,000 meters.
(By Jessica Gow, Reuters/Scanpix)
AP via USA Today
STOCKHOLM (AP) — Meseret Defar of Ethiopia broke the women's 5,000-meter indoor world record by more than three seconds at the GE Gala on Wednesday night.
Defar was timed in 14 minutes, 24.37 seconds. Tirunesh Dibaba, also of Ethiopia, set the old mark of 14:27.42 in 2007.
With excellent pacemaking, Defar was two or three seconds under Dibaba's split times throughout the race.
During the final laps, many of the fans at the sold out Ericsson Globe Arena stood up to cheer her on.
"I'd like to thank the Swedish crowd," Defar said. "The fans were fantastic. It helped me a lot. What a wonderful race. The track was great. I'd love to come back."
With the win, Defar extended her unbeaten indoor streak to 18 races since March 2003.
Defar took the lead with about 3,000 meters left in the 34-lap race and lapped most of the seven other finishers twice.
The 25-year-old Defar has won Olympic and world championship titles in the 5,000, and she's as good in the 3,000 with three consecutive world indoor golds and a world record in that distance. Read More.