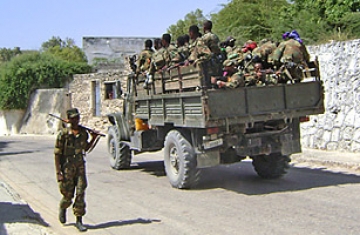 Above: Ethiopian soldiers on a truck following a farewell
ceremony which took place in the presidential palace,
Mogadishu, Somalia, Tuesday, January 13, 2009.
(Farah Abdi Warsameh / AP)
VOA
By Adanech Fessehaye
Washington
20/02/2009
Sheikh Sharif's moderate position and inclusive strategies as Somali's new president is to be commended, said Dr. Ayele Bekerie, an assistant professor in Cornell University's African studies program. Ayele was interviewed by Adanech of the Amharic service on Friday.
Ayele said the new president's conciliatory role at the Africa Union meeting is good news for the region and that he sounds willing to work with Ethiopia. Ethiopia should reciprocate by helping Somalia and by putting investments in the country.
Ayele also talked about remarks made by the new AU chairmen, Mummer Qaddafi, regarding efforts to promote a pan-African policies.He cautioned such a movement should be approached with care. He also noted the irony of Qaddafi's desire to be known as "king of kings" after his own successful efforts many years ago to overthrow a Libyan monarch. Read more Horn of Africa News at VOA.
About Dr. Ayele Bekerie: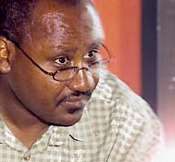 Ayele Bekerie, an Assistant Professor at the Africana Studies and Research Center of Cornell University, is the author of the award-winning book "Ethiopic, An African Writing System: Its History and Principles" (The Red Sea Press, 1997). Bekerie's papers have been published in scholarly journals, such as ANKH: Journal of Egyptology and African Civilizations, Journal of the Horn of Africa, Journal of Black Studies, the International Journal of Africana Studies, and the International Journal of Ethiopian Studies. Bekerie is also the creator of the African Writing System web site and a contributing author in the highly acclaimed book, "ONE HOUSE: The Battle of Adwa 1896-100 Years." Bekerie's most recent published work includes "The Idea of Ethiopia: Ancient Roots, Modern African Diaspora Thoughts," in Power and Nationalism in Modern Africa, published by Carolina Academic Press in 2008 and "The Ancient African Past and Africana Studies" in the Journal of Black Studies in 2007. Bekerie appears frequently on the Amharic Service of Voice of America and Radio Germany. He is a regular contributor to Tadias Magazine and other Ethiopian American electronic publications. His current book project is on the "Idea of Ethiopia."