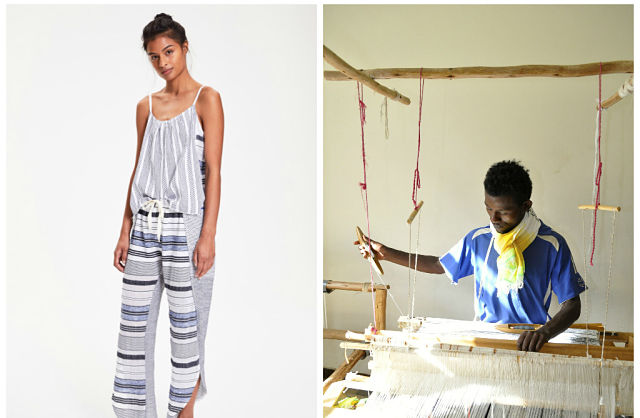 Can You Build a Fashion Business With a Manufacturing Base in Africa?
NEW YORK, United States — Liya Kebede made her first Lemlem garment in 2007 as a way to give back to Ethiopia, where the successful model was born and raised; a crucial stop before starring in Tom Ford campaigns and walking Miuccia Prada's runway. She found a group in Addis Ababa, her hometown and the sub-Saharan African country's largest city, to produce garments handwoven in the traditional technique, with the gauzy white cotton she wore growing up but had since been replaced by more Western-style (and often second-hand Western) garments.
"When I created Lemlem it was about trying to create a solution to a problem," Kebede says, smiling from behind her desk in a sunny office located in Manhattan's Little Italy neighbourhood. "The market of the weaving had gone down a lot and there were all these artisans that were looking for jobs and not finding any. What can I do to help move the needle a little bit along?"
Kebede modernised the silhouettes and instructed the artisans to weave in stripes of fluo-coloured yarn, which soon became Lemlem's signature. In that first year, she manufactured 200 units and secured three points of sale. Collaborations with the likes of J.Crew — including a successful kid's line — followed.
In 2017, production will exceed 25,000 units, with 300 points of distribution across six continents. She now employs 250 weavers and craftspeople in Ethiopia, with salaries increasing five-fold in the past decade. In recent years, Kebede has expanded parts of her production to Kenya — where she produces trend-driven fashion items — and sources materials in Rwanda, Madagascar and Mali.
The success of the line has compelled Kebede to change her namesake non-profit to Lemlem Foundation, which has expanded its mission of promoting maternal health in Africa to supporting the economic empowerment of African women. (The for-profit business donates 5 percent of all of its direct sales and proceeds from one-off collaborations to the foundation.)
While Kebede declined to disclose annual revenue figures, her 2017 goal for Lemlem — other than to expand the label's fashion offerings, with plans to host its first-ever live presentation during the Resort 2018 season this spring — is to raise capital in order to scale further. And she plans to do so in Africa, where she has managed to achieve success.
And yet — expansive production, especially at the higher end of the market — still seems extraordinarily difficult to accomplish on the continent — if not impossible — with commonly known challenges such as unstable infrastructure, the bog of bureaucracy and a lack of information on how exactly to do it.
—
Join the conversation on Twitter and Facebook.