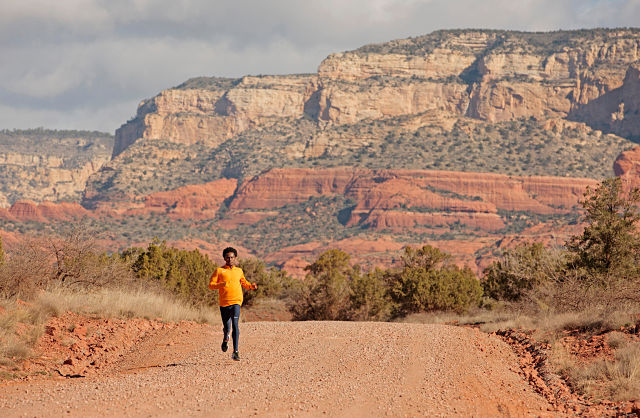 Feyisa Lilesa, Marathoner in Exile, Finds Refuge in Arizona
FLAGSTAFF, Ariz. — The young boy was getting reacquainted with his father after an absence of six months and climbed on him as if he were a tree. The boy kissed his father and hugged him and clambered onto his shoulders. Then, when a protest video streamed on television, the boy grabbed a stick, and the lid of a pot to serve as a shield, and began to mimic a dance of dissent in the living room.
There is much joy and relief, but also continued political complication, in the modest apartment of Feyisa Lilesa, the Ethiopian marathon runner who won a silver medal at the Rio Olympics and gained international attention when he crossed his arms above his head at the finish line in a defiant gesture against the East African nation's repressive government.
Afraid to return home, fearing he would be jailed, killed or no longer allowed to travel, Lilesa, 27, remained in Brazil after the Summer Games, then came to the United States in early September. He has received a green card as a permanent resident in a category for individuals of extraordinary ability in the sciences, arts, education, business and sports.
On Valentine's Day, his wife, Iftu Mulisa, 26; daughter, Soko, 5; and son, Sora, 3, were reunited with him, first in Miami and then in Flagstaff, where Lilesa is training at altitude for the London Marathon in April. Their immigrant visas are valid until July, but they also hope to receive green cards.
—
Related
Feyisa Lilesa Reunites with Family
In Pictures: Feyisa Lilesa's Daring Protest Reminiscent of 1968 Olympics
Washington Post Interview With Feyisa Lilesa
From Rio to America: Olympian Feyisa Lilesa's Washington Post Op-Ed
Olympian Feyisa Lilesa Arrives in the U.S.
In Seattle, African Athletics Org Renames 5k Race 'Feyisa Lilesa Heroic Run'
Over $100000 Raised For Ethiopian Olympian Runner
Medallist Feyisa Lilesa fails to return to Ethiopia after Olympics protest
Olympian Feyisa Lilesa Shows Solidarity With Protesters in Ethiopia at Rio Games
Ethiopia Says Protesting Marathoner to Be Welcomed as Hero, But Does He Want to Go?
Ethiopia 'hero' runner gets asylum donations after Oromo protest sign
Olympian Feyisa Lilesa Shows Solidarity With Protesters in Ethiopia at Rio Games »
Ethiopia Olympian Feyisa Lilesa Protests Government With Marathon Medal
Ethiopian Marathoner's Protest Puts Him at Odds With His Government
Ethiopian runner makes protest sign as he crosses line in Rio
Rio 2016 Olympics: Genzebe Dibaba Takes Silver Medal in the Women's 1,500 Meters
Rio 2016 Olympics: Etenesh Diro Advances to 3,000-Meter Steeplechase With 1 Shoe
Ethiopia's First Gold at Rio Olympics: Almaz Ayana Smashes 10,000m Record
Ethiopia's Olympic Swimmer Robel Kiros: Body Shaming & Questions of Nepotism
All Eyes on Brazil as 2016 Olympics Starts
Join the conversation on Twitter and Facebook.