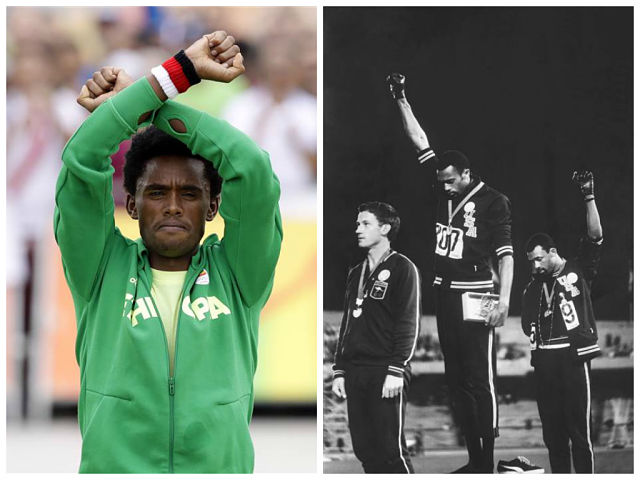 Tadias Magazine
By Tadias Staff
Published: Tuesday, August 23rd, 2016
New York (TADIAS) — In 1968 three athletes wore Olympic Project for Human Rights (OPHR) badges during the medal ceremonies in support of the civil rights movement in America despite a ban on political demonstrations at the Olympics. At Rio 2016 Ethiopian Olympic marathoner & silver medalist Feyisa Lilesa staged an equally daring protest as he crossed the finish line on Sunday, August 21st holding his arms over his head, with wrists crossed, in a gesture of solidarity with non-violent protestors in Ethiopia regarding government plans to reallocate farmland and freedom of expression. He repeated the protest at a press conference and on the podium.
As NBC News notes: "The image was striking. A black man with his fists raised in the air, his arms crossed like an X. It was even more striking given that this man was standing on the medal stand at the Rio Olympics and not on an American street corner protesting in the name of Black Lives Matter. It was a protest for black lives nonetheless, those about 6,000 miles away in Ethiopia."
NBC quotes Feyisa as having told reporters on Sunday after the marathon race: "In the last nine months, more than 1,000 people died. And others charged with treason. It's a very dangerous situation in Ethiopia."

(Photo credit: Eshetu Homa Keno)
"Lilesa's symbolic protest, which he raised when crossing the finish line and again on the podium, comes decades after other black athletes protested treatment of their own people," NBC News reports. "During the 1968 Olympics in Mexico City, two American sprinters named Tommie Smith and John Carlos won the gold and bronze medals in the 200-meter dash, with Smith setting a World and Olympic record on the way to victory. But it was what they did after that won the hearts of some and the scorn of others. The two black men took to the podium as the Star Spangled Banner played, wearing black socks and no shoes. Their heads were bowed low and each raised a gloved fist. The shoeless feet represented African Americans poverty, and the black fist was a symbol of black power and unity, a call for radical change in the way the American government treated black people. Smith wore a scarf. Carlos wore beads. Both were worn in memory of lynching victims in the United States. With time the legacy of the men has shifted in popular culture and the history of the civil rights era. Their lives seemed to have ebbed and flowed, from public derision to the polish of time."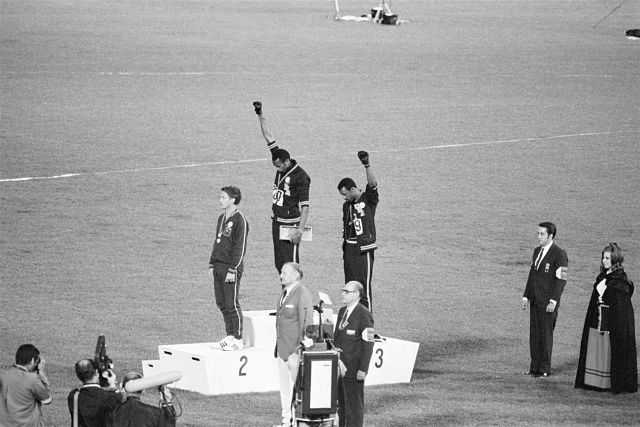 Tommie Smith and John Carlos, gold and bronze medalists in the 200-meter run at the 1968 Olympic Games, engage in a victory stand protest against unfair treatment of blacks in the United States. Australian Peter Norman is the silver medalist. (Photo: Bettmann Archive)
"As for Feyisa Lilesa, the Ethiopian compatriot of Smith and Carlos in the spirit of Olympic protest, it's yet to be seen what he'll face at home. Lilesa, the father of two, said his life will likely be under threat back home and that if need be he'd apply for political asylum in the United States."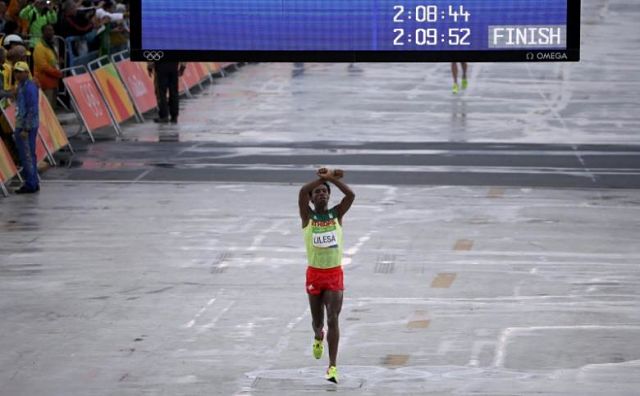 2016 Rio Olympics – Athletics – Final – Men's Marathon – Sambodromo – Rio de Janeiro, Brazil – 21/08/2016. Feyisa Lilesa (ETH) of Ethiopia flashes protest sign as he wins silver. (Photo: REUTERS)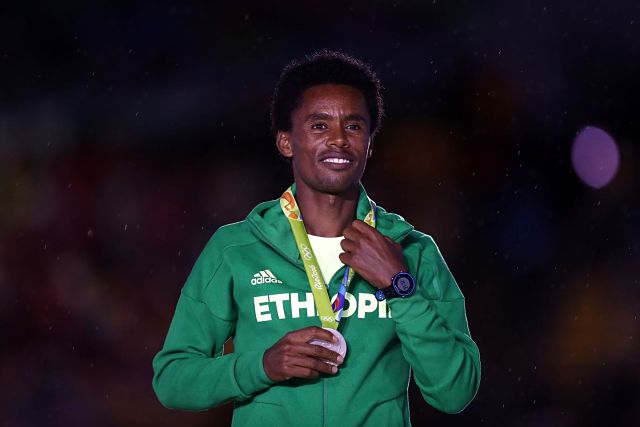 Feyisa Lilesa receives his silver medal for the men's marathon in the Rio 2016 Olympics at the Maracana Stadium in Rio de Janeiro, Brazil, on August 21. Feyisa Lilesa has arrived in the US. (Getty Images)
—-
Related:
Washington Post Interview With Feyisa Lilesa
From Rio to America: Olympian Feyisa Lilesa's Washington Post Op-Ed
Olympian Feyisa Lilesa Arrives in the U.S.
In Seattle, African Athletics Org Renames 5k Race 'Feyisa Lilesa Heroic Run'
Over $100000 Raised For Ethiopian Olympian Runner
Medallist Feyisa Lilesa fails to return to Ethiopia after Olympics protest
Olympian Feyisa Lilesa Shows Solidarity With Protesters in Ethiopia at Rio Games
Olympian Feyisa Lilesa Shows Solidarity With Protesters in Ethiopia at Rio Games »
Ethiopia Olympian Feyisa Lilesa Protests Government With Marathon Medal
Ethiopian Marathoner's Protest Puts Him at Odds With His Government
Ethiopian runner makes protest sign as he crosses line in Rio
Rio 2016 Olympics: Genzebe Dibaba Takes Silver Medal in the Women's 1,500 Meters
Rio 2016 Olympics: Etenesh Diro Advances to 3,000-Meter Steeplechase With 1 Shoe
Ethiopia's First Gold at Rio Olympics: Almaz Ayana Smashes 10,000m Record
Ethiopia's Olympic Swimmer Robel Kiros: Body Shaming & Questions of Nepotism
All Eyes on Brazil as 2016 Olympics Starts
Join the conversation on Twitter and Facebook.