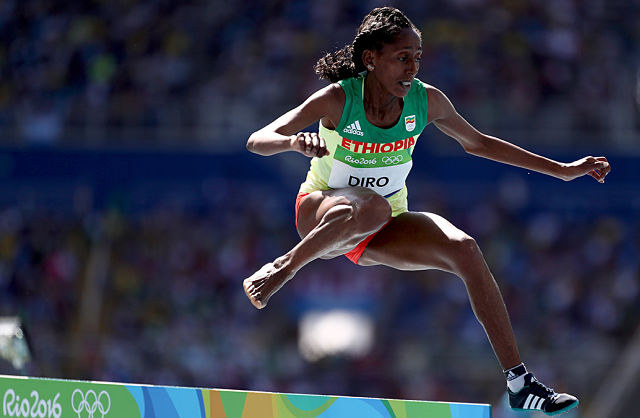 Ethiopia's Etenesh Diro has advanced to the final in the women's 3,000-meter steeplechase after having run the last half mile of the semifinal with only one shoe.
After reviewing video of the race, the Jury of Appeal advanced Diro to the final, following protests from the Ethiopian team, according to The Associated Press.
Diro was leading her heat in the qualification race when her right shoe got loose.
The 25-year-old struggled to put it back on after colliding with some of the others on the track.
After trying to put it back on, Diro finally yanked it off and threw it onto the field. Taking a few steps, she ripped off her sock and continued, completing the last leg of the race with just one shoe.
Diro managed to catch up to some of the runners, but finished in 7th place in her heat, clocking in at 9:34.70. That time originally knocked her out of the final.
—-
Related:
Ethiopia's First Gold at Rio Olympics: Almaz Ayana Smashes 10,000m Record
Ethiopia's Olympic Swimmer Robel Kiros: Body Shaming & Questions of Nepotism
Join the conversation on Twitter and Facebook.