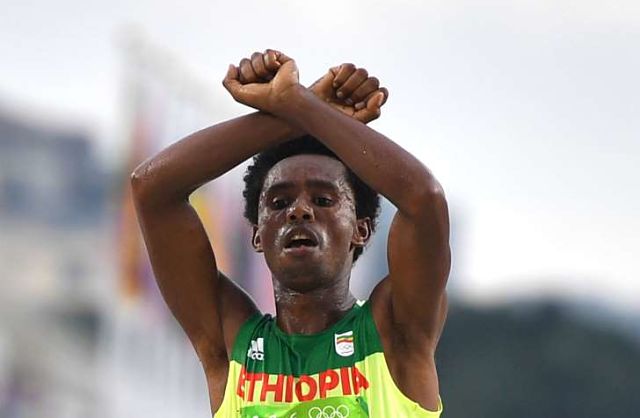 Aug 21, 2016
When he crossed the Olympics marathon finish line, Feyisa Lilesa put his hands above his head in an "X." Most of those who watched Lilesa's spectacular silver medal performance didn't know what that meant — or just how dangerous a protest they were watching.
Lilesa was protesting the Ethiopian government's killing of hundreds of the country's Oromo people — an ethnic majority that has long complained about being marginalized by the country's government. The group has held protests this year over plans to reallocate Oromo land. Many of those protests ended in bloodshed. According to Human Rights Watch, more than 400 people have been killed since November.
For months, the Oromo have been using the same "X" gesture that Lilesa, 26, used at the finish line.
At a news conference following the race, he reiterated his defiant message.
"The Ethiopian government is killing my people, so I stand with all protests anywhere, as Oromo is my tribe," Lilesa said. "My relatives are in prison and if they talk about democratic rights they are killed."
It was a remarkable turn of events — within seconds, Lilesa had gone from a national hero to a man who might not be able to return to his home country. In addition to those killed, many Oromo protesters are currently languishing in prison.
In Ethiopia, the state broadcaster did not air a replay of the finish.
Lilesa was conscious of the danger. He immediately suggested that he might have to move somewhere else.
"If I go back to Ethiopia maybe they will kill me. If not kill me, they will put me in prison. I have not decided yet, but maybe I will move to another country," he said.
Read more at The Washington Post »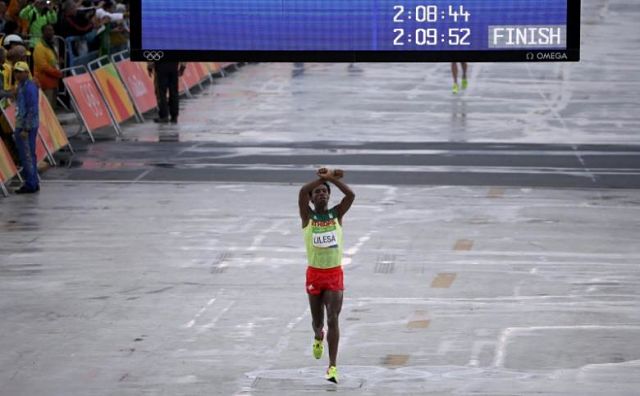 2016 Rio Olympics – Athletics – Final – Men's Marathon – Sambodromo – Rio de Janeiro, Brazil – 21/08/2016. Feyisa Lilesa (ETH) of Ethiopia celebrates as he wins silver. (Photo: REUTERS)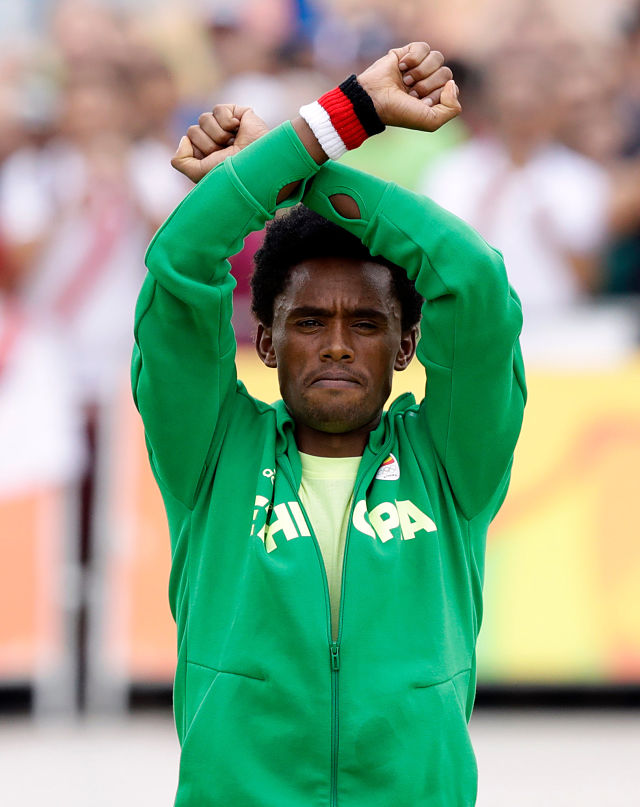 Feyisa Lilesa, who won the silver medal in the men's marathon at the Rio Olympics, during an award ceremony on on Sunday, August 21st, 2016. (AP photo)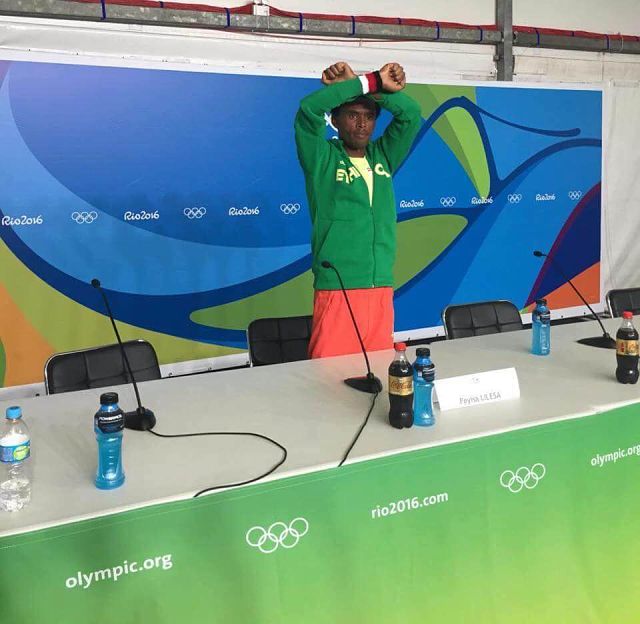 Silver medalist Feyisa Lilesa at the conclusion of a news conference on Sunday, August 21st, 2016 in Rio de Janeiro, Brazil. (Photo credit : Eshetu Homa Keno)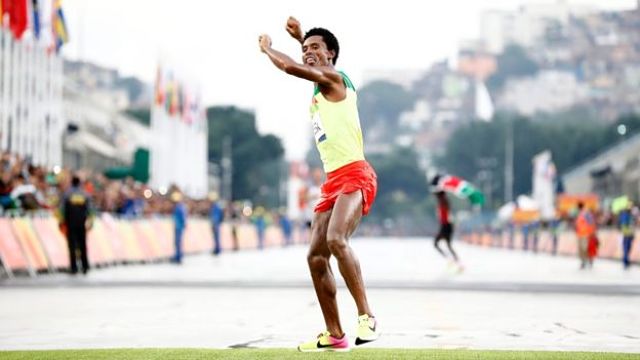 Feyisa Lilesa celebrates crossing the line in second place in Rio. (Photo: EPA)
—-
Related:
In Pictures: Feyisa Lilesa's Daring Protest Reminiscent of 1968 Olympics
Over $100000 Raised For Ethiopian Olympian Runner
Medallist Feyisa Lilesa fails to return to Ethiopia after Olympics protest
Olympian Feyisa Lilesa Shows Solidarity With Protesters in Ethiopia at Rio Games
Ethiopia Says Protesting Marathoner to Be Welcomed as Hero, But Does He Want to Go?
Ethiopia 'hero' runner gets asylum donations after Oromo protest sign
Olympian Feyisa Lilesa Shows Solidarity With Protesters in Ethiopia at Rio Games »
Ethiopia Olympian Feyisa Lilesa Protests Government With Marathon Medal
Ethiopian Marathoner's Protest Puts Him at Odds With His Government
Ethiopian runner makes protest sign as he crosses line in Rio
Rio 2016 Olympics: Genzebe Dibaba Takes Silver Medal in the Women's 1,500 Meters
Rio 2016 Olympics: Etenesh Diro Advances to 3,000-Meter Steeplechase With 1 Shoe
Ethiopia's First Gold at Rio Olympics: Almaz Ayana Smashes 10,000m Record
Ethiopia's Olympic Swimmer Robel Kiros: Body Shaming & Questions of Nepotism
Join the conversation on Twitter and Facebook.