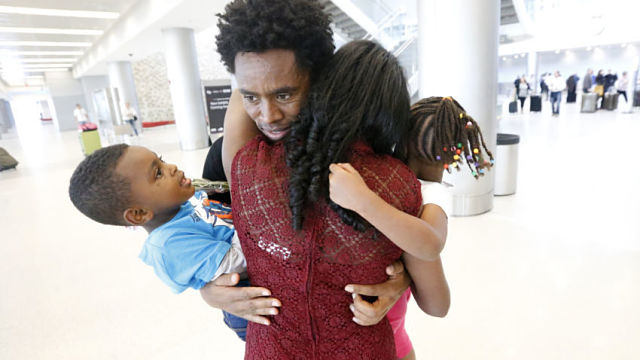 Associated Press
February 14, 2017
The Ethiopian marathoner crouched down low in the hallway at the Miami airport as he carried a bouquet of red roses.
Feyisa Lilesa's daughter spotted him first and ran in for a hug. Then, his young son and lastly his wife.
On Valentine's Day, the Olympic silver medalist who became an international figure when he crossed his wrists in protest at the finish line in Rio de Janeiro finally reunited with his family. He was a little late (traffic), but what's a few extra minutes when he's already waited six long months to see them.
As he made his way out of the airport, his daughter rode on the luggage and his son perched on his shoulders, carrying the flowers he brought as a gift.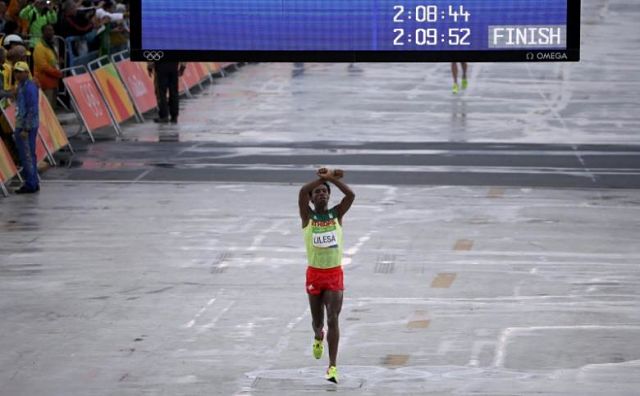 2016 Rio Olympics – Athletics – Final – Men's Marathon – Sambodromo – Rio de Janeiro, Brazil – 21/08/2016. Feyisa Lilesa (ETH) of Ethiopia celebrates as he wins silver. (Photo: REUTERS)
—
Related:
In Pictures: Feyisa Lilesa's Daring Protest Reminiscent of 1968 Olympics
Washington Post Interview With Feyisa Lilesa
From Rio to America: Olympian Feyisa Lilesa's Washington Post Op-Ed
Olympian Feyisa Lilesa Arrives in the U.S.
In Seattle, African Athletics Org Renames 5k Race 'Feyisa Lilesa Heroic Run'
Over $100000 Raised For Ethiopian Olympian Runner
Medallist Feyisa Lilesa fails to return to Ethiopia after Olympics protest
Olympian Feyisa Lilesa Shows Solidarity With Protesters in Ethiopia at Rio Games
Ethiopia Says Protesting Marathoner to Be Welcomed as Hero, But Does He Want to Go?
Ethiopia 'hero' runner gets asylum donations after Oromo protest sign
Olympian Feyisa Lilesa Shows Solidarity With Protesters in Ethiopia at Rio Games »
Ethiopia Olympian Feyisa Lilesa Protests Government With Marathon Medal
Ethiopian Marathoner's Protest Puts Him at Odds With His Government
Ethiopian runner makes protest sign as he crosses line in Rio
Rio 2016 Olympics: Genzebe Dibaba Takes Silver Medal in the Women's 1,500 Meters
Rio 2016 Olympics: Etenesh Diro Advances to 3,000-Meter Steeplechase With 1 Shoe
Ethiopia's First Gold at Rio Olympics: Almaz Ayana Smashes 10,000m Record
Ethiopia's Olympic Swimmer Robel Kiros: Body Shaming & Questions of Nepotism
All Eyes on Brazil as 2016 Olympics Starts
Join the conversation on Twitter and Facebook.