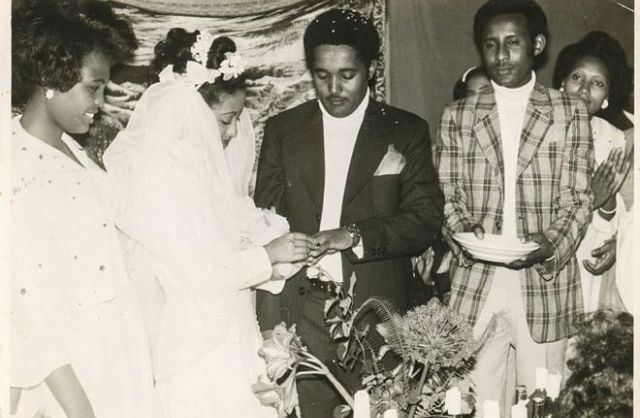 By Philipp Schütz & Wongel Abebe
Love can often flourish in the most hopeless of situations.
And so it was for Aynalem and Genet who married each other in 1978 during the height of Ethiopia's brutal Red Terror.
The bloodshed began a year earlier, when Marxist leader Mengistu Haile Mariam took control of Ethiopia and launched a lethal campaign against his enemies.
Thousands of people died during his crackdown, with hundreds of thousands more forcibly resettled.
But this didn't stop Aynalem and Genet from exchanging their wedding vows in Sendafa, a small city just outside the capital, Addis Ababa.
Photos from this day have been compiled by the digital archive, Vintage Addis Ababa, to show how people carry on with life in exceptional circumstances.
A long courtship
The couple met in 1973 when they lived in the same neighbourhood.
A year later, the country's imperial government was overthrown by the Derg communist regime, paving the way for Mengistu's rule.
The chaos that followed upended their lives in ways they could not have imagined.
Aynalem had hoped to marry Genet early, as soon as she finished high school.
But in 1978 she was arrested for taking part in an opposition protest and jailed for three months.
"Living under the Derg regime was not easy," Genet says. "The fear in the atmosphere hindered our joy from being complete."
Read more and see photos at BBC.com »
—
Join the conversation on Twitter and Facebook.