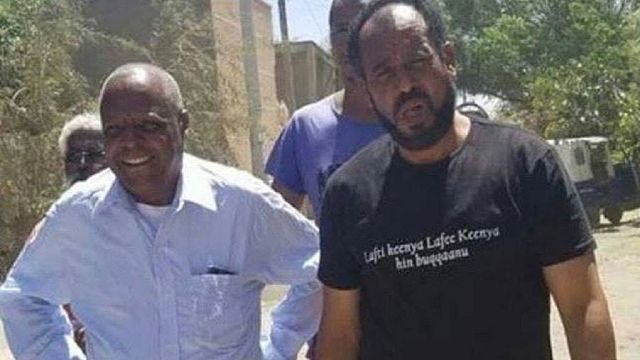 Updated: February 27, 2018
Ethiopia Authorities Order Security Forces to Quell Protests
Ethiopian authorities ordered the country's security forces to "take all the necessary measures" to deal with anti-government agents in the restive Oromia region.
The so-called Command Post, which is administering a state of emergency declared on Feb. 16, must deal with "illegal forces" in Oromia if they "do not refrain from their destructive actions immediately," according to a statement published Tuesday by the ruling-party funded Fana Broadcasting Corp.
The government has been struggling for more than two years to end sporadic and often deadly anti-government protests in the Oromia and Amhara regions. The Oromo and Amhara communities together make up more than half of Ethiopia's population, Africa's largest after Nigeria. Activists from both groups claim that minority ethnic Tigrayans, who are about 6 percent of the population, dominate an authoritarian government.
One person was killed this week and seven were wounded as protests continue in Nekemte, an Oromia market town about 242 kilometers (151 miles) west of the capital, Addis Ababa, Oromia spokesman Addisu Arega said in a Facebook post Tuesday, citing reports received by the regional government.
Government forces blocked leaders of the opposition Oromo Federalist Congress, including Chairman Merera Gudina and Secretary-General Bekele Gerba from entering Nekemte on Sunday, said Beyene Petros, who heads the Medrek coalition of opposition parties that includes the OFC. Merera was freed from prison in January and Bekele this month as part of a mass release of more than 7,000 detainees first announced by the government in January.
—
Related:
NEWS: STANDOFF AS SECURITY FORCES DETAIN RECENTLY RELEASED OPPOSITION POLITICIANS, INCLUDING DR. MERERA GUDINA AND BEKELE GERBA, NEAR NEKEMT IN WESTERN ETHIOPIA (Addis Standard)
Ethiopia releases 1,500 prisoners (REUTERS)
The Economist on Ethiopia's Current Political Climate
Diaspora: Why Should U.S. Solve Ethiopia's Domestic Problem?
Crisis in Ethiopia: elections, and fast! (Open Democracy)
Ethiopia's Great Rift (Foreign Policy Magazine)
U.S. Urges Ethiopia to Reconsider State of Emergency
Ethiopia Vows No Military Takeover Amid Latest Emergency (AP)
UPDATE: Ethiopia Says State of Emergency Will Last Six Months
Ethiopia: Seize the Moment (Editorial)
PM Hailemariam Desalegn Resigns (Reuters)
UPDATE: Eskinder Nega & Woubshet Taye Released From Prison
Ethiopia drops charges against Zone 9 bloggers
Bekele Gerba Freed Amid Protests
Signs of Hopeful Debate Emerge Online as Ethiopia Grapples with Future
Ethiopia's Crisis of Ethnic Politics Taking Toll on Poor People
Ethiopia: 2,300 More Prisoners Pardoned
Interview: Merera Gudina Calls for Dialogue (AFP)
Ethiopia: Is This the Start of Reforms or Just a Pause in Repression? (The Economist)
Ethiopia: Media Roundup of Reactions to Announced Release of Political Prisoners
Join the conversation on Twitter and Facebook.