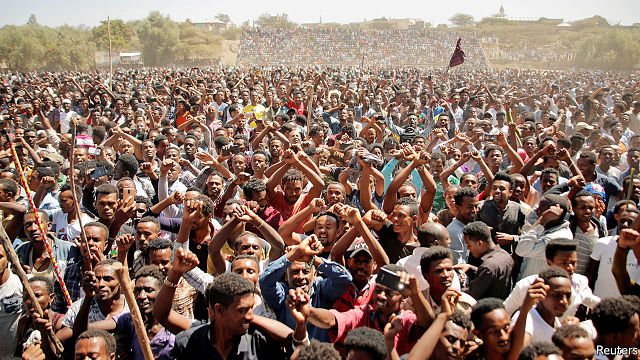 NAIROBI – Ethiopia has released more than 1,500 prisoners in its eastern Somali region, government officials said on social media, days after the government declared a state of emergency to try to tamp down unrest in Africa's second most populous nation.
"On Wednesday, over 1,500 prisoners were released following a pardon by President Abdi Mohammed Omer," the Somali Region's communications bureau said on Facebook late on Wednesday, referring to the regional president.
"The inmates had been jailed on charges that include anti-peace activities," it added, without giving details.
Ethiopia has already released more than 6,000 prisoners since January, including some high-profile journalists and opposition leaders. They were charged with a variety of offences, including terrorism.
Prime Minister Hailemariam Desalegn said the releases were designed to increase "political space" in Ethiopia following anti-government protests that began in 2015.
Hundreds of people were killed during two years of protests that convulsed the country's two most populous provinces, whose ethnic Oromo and Amharic communities complain they are under-represented in the country's corridors of power.
Friday's declaration of a six-month-long state of emergency followed Hailemariam's surprise resignation on Thursday. He remains in office, overseeing the region's biggest economy, until a new prime minister is appointed.
The government previously imposed a state of emergency in October 2016, which was lifted in August 2017. During that time, curfews were in place, movement was restricted and about 29,000 people were detained. It's unclear how many remain in prison.
—
Related:
The Economist on Ethiopia's Current Political Climate
Diaspora: Why Should U.S. Solve Ethiopia's Domestic Problem?
Crisis in Ethiopia: elections, and fast! (Open Democracy)
Ethiopia's Great Rift (Foreign Policy Magazine)
U.S. Urges Ethiopia to Reconsider State of Emergency
Ethiopia Vows No Military Takeover Amid Latest Emergency (AP)
UPDATE: Ethiopia Says State of Emergency Will Last Six Months
Ethiopia: Seize the Moment (Editorial)
PM Hailemariam Desalegn Resigns (Reuters)
UPDATE: Eskinder Nega & Woubshet Taye Released From Prison
Ethiopia drops charges against Zone 9 bloggers
Bekele Gerba Freed Amid Protests
Signs of Hopeful Debate Emerge Online as Ethiopia Grapples with Future
Ethiopia's Crisis of Ethnic Politics Taking Toll on Poor People
Ethiopia: 2,300 More Prisoners Pardoned
Interview: Merera Gudina Calls for Dialogue (AFP)
Ethiopia: Is This the Start of Reforms or Just a Pause in Repression? (The Economist)
Ethiopia: Media Roundup of Reactions to Announced Release of Political Prisoners
Join the conversation on Twitter and Facebook.