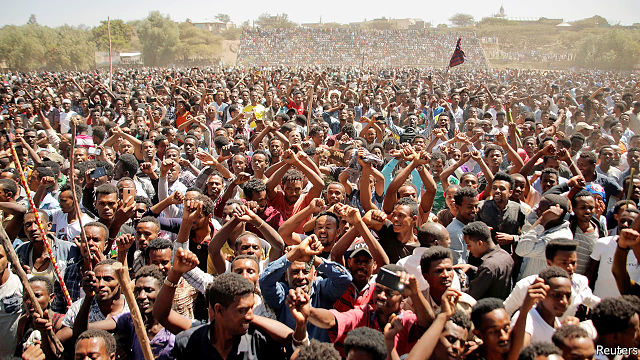 Protest, repress, reform, repeat: With nobody in charge, Ethiopia declares a state of emergency
THE well-heeled residents of Legetafo are not used to demonstrations. The town on the eastern edge of Ethiopia's capital, Addis Ababa, is home to politicians and businessfolk. Although nearby towns in the region of Oromia, which surrounds the capital, have been hit by anti-government protests since late 2014, these streets have remained mostly quiet.
Yet this month demonstrations broke out there too, as people joined a strike to force the ruling coalition to release more political prisoners (in addition to the thousands it has already freed since the start of the year). "Almost everyone" took to the streets, says Zenebe, a local restaurant-owner. Things quickly turned ugly. People set up roadblocks and burned tyres. The army responded with tear gas and bullets. Faced with spreading protests and ethnic attacks on Tigrayans (who are about 6% of the population but dominate politics), the government announced a state of emergency, giving itself wide powers to ban protests and arrest people.
The declaration appears at odds with recent signs that the ruling Ethiopian People's Revolutionary Democratic Front (EPRDF) was willing to allow more democracy. In August it lifted a ten-month-long state of emergency, imposed after protests in 2016. But rather than signalling a retreat from reform, the new state of emergency appears to have been triggered by the resignation the day before of Hailemariam Desalegn, the prime minister.
Hailemariam said he was bowing out to allow for "reforms", but his departure has opened up a succession struggle within the EPRDF, which has governed Ethiopia since it first seized power as a band of rebels in 1991.
—
Related:
Another 1,500 Prisoners Released in Ethiopia (VOA)
Diaspora: Why Should U.S. Solve Ethiopia's Domestic Problem?
Crisis in Ethiopia: elections, and fast! (Open Democracy)
Ethiopia's Great Rift (Foreign Policy Magazine)
U.S. Urges Ethiopia to Reconsider State of Emergency
Ethiopia Vows No Military Takeover Amid Latest Emergency (AP)
UPDATE: Ethiopia Says State of Emergency Will Last Six Months
Ethiopia: Seize the Moment (Editorial)
PM Hailemariam Desalegn Resigns (Reuters)
UPDATE: Eskinder Nega & Woubshet Taye Released From Prison
Ethiopia drops charges against Zone 9 bloggers
Bekele Gerba Freed Amid Protests
Signs of Hopeful Debate Emerge Online as Ethiopia Grapples with Future
Ethiopia's Crisis of Ethnic Politics Taking Toll on Poor People
Ethiopia: 2,300 More Prisoners Pardoned
Interview: Merera Gudina Calls for Dialogue (AFP)
Ethiopia: Is This the Start of Reforms or Just a Pause in Repression? (The Economist)
Ethiopia: Media Roundup of Reactions to Announced Release of Political Prisoners
Join the conversation on Twitter and Facebook.