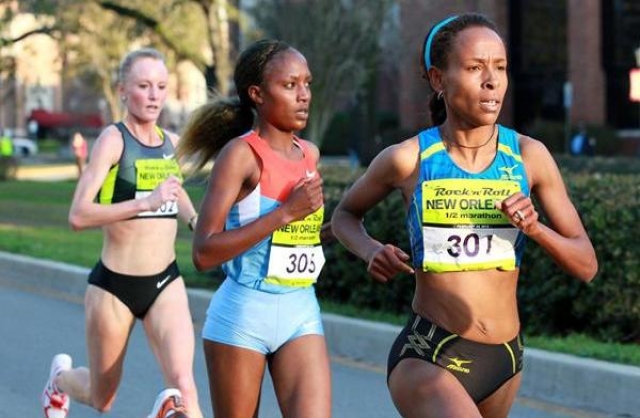 By Rachel Whittaker
Meseret Defar cruised behind Shalane Flanagan for the first third of the Rock 'n' Roll New Orleans Half Marathon. But by the 10K mark, there was no stopping the Ethiopian Olympic gold medalist.
Running on a sun-splashed course along majestic St. Charles Avenue and through the French Quarter, Defar set a new personal-best in just her second career half marathon, winning the female field in 1 hour, 7 minutes and 25 seconds. She finished a comfortable margin of 1 minute and 6 seconds ahead of Flanagan, who clocked in at 1:08:31 as the female runner-up.
Defar, 29, set her half marathon personal-best by 20 seconds Sunday, faster than her 2010 Rock 'n' Roll Philadelphia race (1:07:45). She also broke the previous Rock 'n' Roll New Orleans female record with her time, edging New Zealander Kim Smith's 2011 mark of 1:07:36.
Read more at NOLA.com.
—
Related:
Defar and Farah Set Course Record in New Orleans (IAAF)
Mo Farah of Britain wins New Orleans half marathon;
Ethiopia's Merest Defar wins women's title (AP)
Second Olympic Gold for Meseret Defar (Runner's World)
—
Join the conversation on Twitter and Facebook.