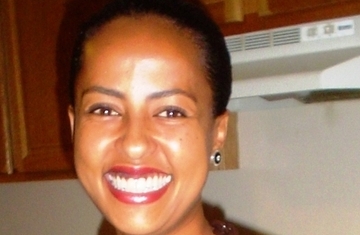 Tadias OP-ED
Published: Wednesday, February 27, 2008
Publisher's Note: We first met Zelela Menker (above) while covering an Obama rally here in New York on Feb 2, 2008. She had stopped by to take part in the "Women for Obama" rally at Columbus Circle. Zelela was born and raised in Addis Ababa, Ethiopia. She is a graduate of Mount Holyoke College (MHC) in South Hadley, Massachusetts, where she majored in Critical Social Thought. The concentration of her academic studies has been Health Disparities and Healthcare Policy.
In the following opinion piece, Zelela Menker discusses her thoughts on Senator Obama.
False Binaries: Talk vs. Action, Style vs. Substance, Inexperience vs. Experience
By Zelela Menker
New York (Tadias) – Let us not undermine Senator Obama's candidature and appeal by pigeonholing him as an inspirational speaker. We as voters are well aware that it will take more than a cheerleader, or a life coach to address the various social, political, and economic issues we are currently facing. Senator Obama's advantage in this race should not be merely attributed to his choice and delivery of powerful and moving words, but more importantly the wisdom that resonates in his speeches and in his proposed policies.
One of Senator Obama's greatest strengths has been his humility. In his acknowledgement that change is a process, that it will neither happen over night, nor will it suddenly surface "on day one" because Americans elect an African American, a Woman, or any one individual as president. The president we elect does not constitute change, but rather, at best will represent our broadest of ideals as a nation. The policy making process is highly complex, imbalanced, and there are no quick fix solutions to our problems. The success of our economy, the quality of our healthcare, and the efficacy of our education system can only improve to the extent that citizens, political parties, and interest groups are willing and able to meaningfully engage and collaborate in what has become an increasingly charged and partisan climate.
Senator Obama's superior leadership has not only been reflected through his ability to change the minds and hearts of ordinary citizens, but also in his proven track record in government. During his twelve years of legislative experience, Barack Obama has written 890 bills and co-sponsored another 1096. It is worth mentioning that by the end of his first year in the U.S. Senate, Barack Obama had authored 152 bills, co-sponsored another 427, and successfully passed over 4 bills on highly controversial and partisan issues such as immigration, government ethics, nuclear weapons, and healthcare reform.
Unfortunately, Senator Obama's impressive track record in politics has received little public attention, while his opponent has ironically been granted the status of political icon for a noble, yet unsuccessful, attempt at national healthcare reform. It is important to remember that Senator Clinton's initiative for national healthcare reform failed not because the issue lacked overwhelming support from the general public, but because of the Clinton administration's flawed strategy that it would not settle for anything less than Universal Healthcare.
This approach not only proved to be ineffective in addressing the issue at hand, but was extremely detrimental to the Democratic Party's standing in government. The administration's inflexibility on the issue was used by the Republican Party to portray President Clinton and Democrats at large as untrustworthy purveyors of a big and out-of-control government. Ultimately this not only hurt the administration's image, but opened the door for more undemocratic social, political, and economic outcomes by enabling Republicans to sweep into Congress in the 1994 elections.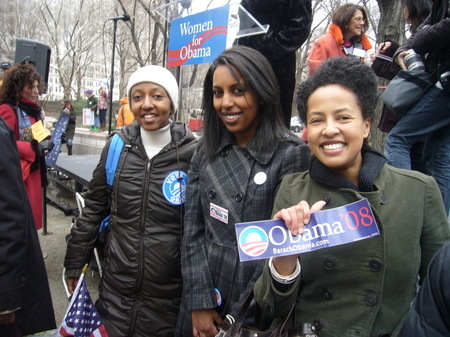 Above: From Right – Zelela Menker, Sara Haile-Mariam, and Tseday Alehegn.
(Columbus Circle, New York City, Sat, Feb 2, 2008. Photo by Liben Eabisa).
I support Senator Obama because he takes into account an important lesson Senator Clinton appears to have missed from her past failures in government. Change requires more than personal passion, drive, and commitment: it requires a leadership that is aware of the limits of individual power and has a solid understanding of the political realities and constraints of the current legislative process.
It is my strong belief that if we are serious about improving our healthcare system, our economy, or this country's standing in the global community, we have to elect the candidate that not only inspires us through his words, but has time and again demonstrated he possesses the insight, judgement, and leadership skills necessary to "sign, seal, and deliver" our aspirations of a better and stronger society.
—-
About the Author: Zelela Menker was born and raised in Addis Ababa, Ethiopia. She moved to the United States to attend Mount Holyoke College (MHC) in South Hadley, MA where she majored in Critical Social Thought (CST). The concentration of her academic studies has been Health Disparities and Healthcare Policy. She views herself to be the product of the boundless time, compassion, love, and dedication of her parents, her sister, Sara, her Professors in the CST department at MHC, and numerous other intelligent, sensitive, authentic souls that have crossed her path. The following words of wisdom from a dear friend have touched her life forever: "When life takes you to the edge you only have two options. You jump and land on solid ground, or you'll learn to fly."
By the same author: Meditations – The Dream Deferred: Re-conceptualizing Class and Politics in America (Tadias)