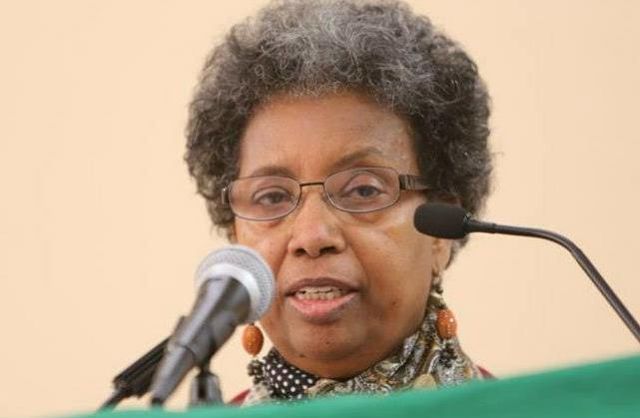 Tadias Magazine
By Tadias Staff
Published: Saturday, February 27th, 2016
New York (TADIAS) — Dr. Maigenet Shifferraw, President of the Center for the Rights of Ethiopian Women (CREW), passed away on February 24th at the age of 68. Dr Maigenet was a women's rights advocate for the last thirty five years.
Prior to helping to establish CREW four years ago Dr. Maigenet — who earned her Ph.D. in Education from the University of Wisconsin­, Milwaukee in 1982 — was an Associate Professor in adult education at the University of the District of Columbia for twenty years. In addition, she had served as an education consultant at the World Bank, the US Department of Education and several other institutions.
Three years ago, in December 2013, Dr. Maigenet was one of the main panelists at the Tadias Magazine Roundtable on Ethiopian migrants in the Middle East held at the National Press Club. "The issue became prominent now, but it has been going on for a long time," Dr. Maigenet reminded the audience, adding that her organization has been tackling the issue of Ethiopian domestic workers, particularly the women in the Middle East, for a while. "What we have been doing is establishing contacts in several countries particularly in Saudi Arabia and Beirut, Lebanon for people to document [and] interview workers of their abuses," Dr. Maigenet said. "We established a pilot program to help Ethiopians who want to return back to their country. We negotiated with one Ethiopian NGO to receive migrants from Lebanon and Saudi Arabia so they can keep them in their shelters for three month, give them medical supplies, counselors, and job training… we were doing that before this Saudi thing erupted."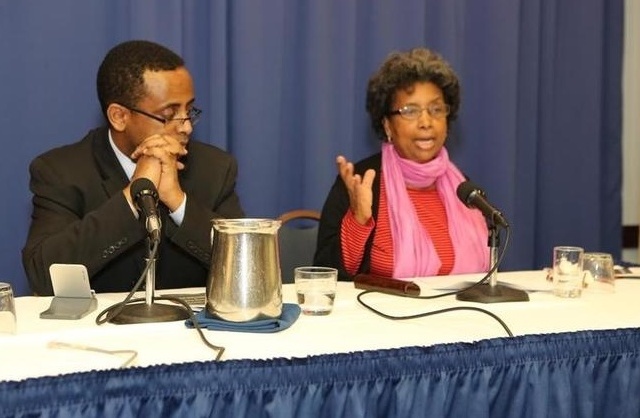 Dr. Maigenet Shifferaw (R) at Tadias Roundtable at The National Press Club, Saturday, December 14th, 2013. (Photo: Matt Andrea)

Dr. Maigenet Shifferaw (left) at Tadias Roundtable at The National Press Club, Saturday, December 14th, 2013. (Photo: Matt Andrea)
"We mourn the loss of a great Ethiopian human rights/women's rights icon, advocate and educator, Dr. Maigenet Shifferraw," said the statement posted on CREW's Facebook page. "Her passing is a shock and a great loss to all of us who loved and admired her." The announcement added: "She was a tireless advocate for civil liberties. She devoted her life to ensuring fairness, justice and equality. She inspired us all and she led by example."
"I'm so sad to hear that Dr. Maigenet Shifferraw passed away," said Ethiopian American writer Kumera Genet via Facebook. Kumera who blogs about African migrant issues for the Huffington Post had shared the stage at the National Press Club with Dr. Maigenet three years ago. "In the three years that I've become familiar with her work, CREW has advocated in three different campaigns for Ethiopians to have honest discussions around how domestic abuse, migration, and the erosion of civil liberties in Ethiopia affects women," Kumera said. "She confronted some of the worst things our people do to one another — interpersonally and institutionally — but continued to remain a kind, intelligent, and positive leader. She was an experienced and humble activist who supported me a lot in the short time I knew her, and I will miss her immensely."
A funeral service for Dr. Maigenet Shifferraw will be held on Monday, Feb 29th, 2016 at St. Gabriel Ethiopian Orthodox Tewahido Church in Washington D.C. followed by a burial service in Adelphi, Maryland.
Related:
Video: Clips from Tadias Roundtable on Ethiopian Migrants in the Middle East at National Press Club

Join the conversation on Twitter and Facebook.