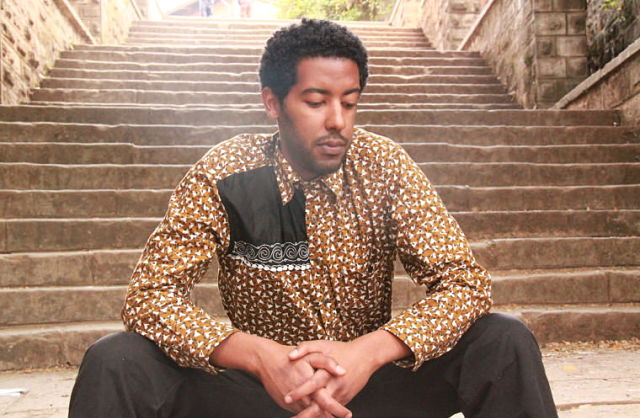 Tadias Magazine
By Tadias Staff
Published: Wednesday, February 24th, 2016
New York (TADIAS) — In its first-ever global issue sampling the underground music scene from Africa to Europe and Latin America, the New York-based music magazine, The Fader, highlights Ethiopian electronic artist and producer Mikael Seifu who "mixes traditional Ethiopian influences with mind-expanding electronic sounds" among 25 Artists From Around The World You Need To Know Right Now.
The magazine notes that Mikael Seifu, who calls his style "Ethiopiyawi Electronic," has an album forthcoming on Brooklyn-based experimental label RVNG this year in which "he documented a typical day living in the Ethiopian capital."
Seifu was born and raised in Addis Ababa and "attended the French school Lycee Guebre-Mariam as a child, and went on to study music production & the music industry at Ramapo College of New Jersey — a small school about 45 minutes outside of Manhattan," according to his label. While in college, Seifu found a mentor in Professor Ben Neill, "the composer and music technologist who trained with La Monte Young. Seifu was inspired by Neil to take serious his calling in music."
In an interview with Pitchfork magazine last Summer Seifu said growing up in Ethiopia he spent a lot of time online "using Napster and a spotty 28.8 kbps connection" to download 2Pac and Master P songs. "Then, spurred on by his businessman father as well as a naive drive for mainstream musical success, he enrolled in New Jersey's Ramapo College having never even visited the States before. He was soon dismayed by what he calls 'the fierceness of the American machine.'"
"There's just a massive pressure, dude," the 27-year-old told Pitchfork. "What I felt and saw there was this lack of purpose being accepted as the norm — people just working their way through as a cog."
Pitchfork wrote: "After taking a life-changing, ear-opening class taught by the experimental composer Ben Neill, Seifu dropped out of school following his junior year, headed back to his hometown, and continued to hone his style."
Seifu's new EP, Zelalem, is scheduled to be released on March 4th by RVNG in both digital and vinyl along with a mixtape cassette.
"Mikael Seifu's Zelalem is an ode to – and a fearless break from – the storied lineage of Ethiopian music" states RVNG.
Below is one song from the new album entitled 'How to Save a Life (Vector of Eternity)'
—
Related:
25 Artists From Around The World You Need To Know Right Now (The Fader)
Join the conversation on Twitter and Facebook.