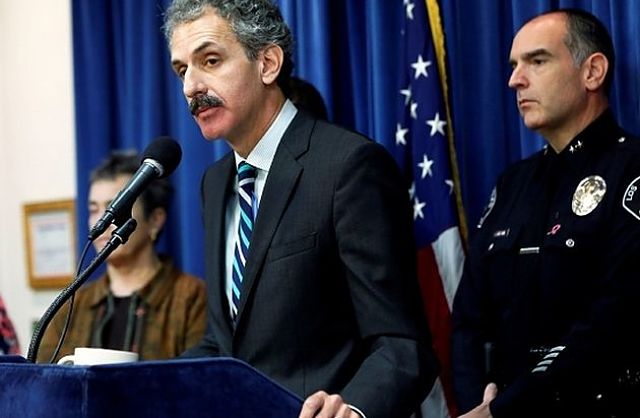 Tadias Magazine
By Tadias Staff
Updated: Tuesday, February 23rd, 2016
New York (TADIAS) — The City of Los Angeles City Attorney Mike Feuer announced that he will host a forum for the Ethiopian Community this week, in partnership with the Los Angeles Police Department.
A representative of the City's Attorney office told Tadias the upcoming event, which is open to the public, will be held at St. Mary's Ethiopian Orthodox Tewahedo Church at 6:00 PM. on Friday, February 26th.
"Connect with the Los Angeles Police Department's Wilshire Area Station, which serves the Little Ethiopia area. Learn about how we work together to keep the neighborhood safe and about the many different services we provide. Bring questions, concerns and ideas. Invite friends, family, and colleagues" the announcement said. "We will also have useful crime prevention tip sheets (contractor fraud, immigration fraud, senior fraud, Identity Theft, etc) available for everyone to take home with them."
Last Summer City Attorney Feuer also hosted a roundtable with members of the Little Ethiopia business community in addition to delivering the keynote address at the 2015 Little Ethiopia Cultural Street Festival in September.
—
If You Go:
L.A. Ethiopian Community Forum
Friday, February 26th at 6:00 PM.
St. Mary's Ethiopian Orthodox Tewahedo Church
5707 Shenandoah Avenue
Los Angeles, CA 90056
Free parking available
www.lacityattorney.org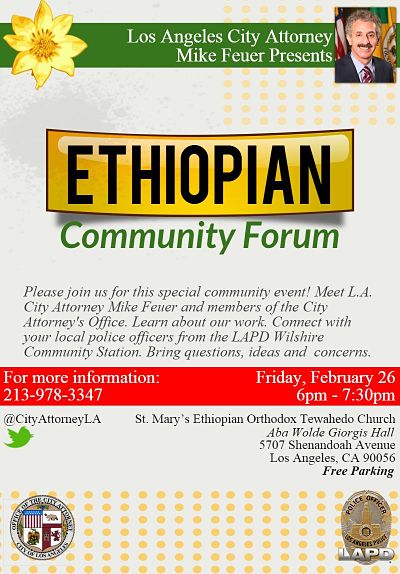 Join the conversation on Twitter and Facebook.