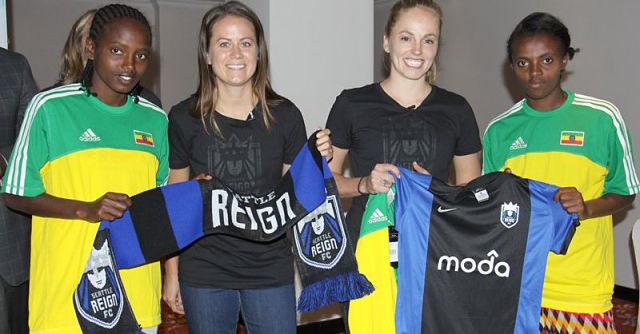 Press Release
U.S. Embassy
Addis Ababa – The Ethiopian Football Federation and representatives of one of America's leading professional women's soccer teams, the Seattle Reign, met today in Addis Ababa and took the first steps in forging a strategic partnership aimed at forging international linkages and strengthening Ethiopian women's soccer.
Visiting Seattle Reign co-owner Teresa Predmore, and visiting American women players met with Ethiopian Football Federation officials at the Elili hotel to discuss plans for forging a strategic partnership which would link the Ethiopian National team known as the Lucy's and the U.S. based Seattle Reign. Representatives of the two teams performed a ceremonial jersey exchange to cement their partnership.
During the jersey exchange ceremony, Juneidi Basha, President of the Ethiopia Football Federation, said, "We are happy to work with the U.S. in the area of women's soccer in order to grow the sport here at home. Ethiopia has a lot to learn from the U.S., which has unrivalled experience in soccer."
The Seattle Reign FC is an American professional women's soccer team based in Seattle, Washington. The team plays in the professional National Women's Soccer League. The Reign finished the 2015 season in first place clinching the NWSL Shield for the second consecutive time. Seattle Reign coach, Laura Harvey was named Coach of the Year for a second consecutive year.
The collaboration is supported by the US Embassy's public diplomacy sports outreach program which has forged links and implemented programs for thousands of young Ethiopian boys and girls in collaboration with the Ethiopian Football Federation and the Ethiopian Basketball Federation. These programs include the semi-annual Community Outreach Youth (COYS) soccer tournament in Dire Dawa for boys and girls based in Oromia, Dire Dawa and Somali and Harari regions and two basketball clinics in Addis organized in conjunction with visiting stars from the National Basketball Association (NBA) and the Women's National Basketball Association (WNBA).
"This is great opportunity to expand our sports diplomacy program and engage with young people in Ethiopia," said David Kennedy, Public Affairs Officer at the U.S. Embassy. "This strategic partnership is a great example of the possibilities linking Ethiopian and the American institutions and programs."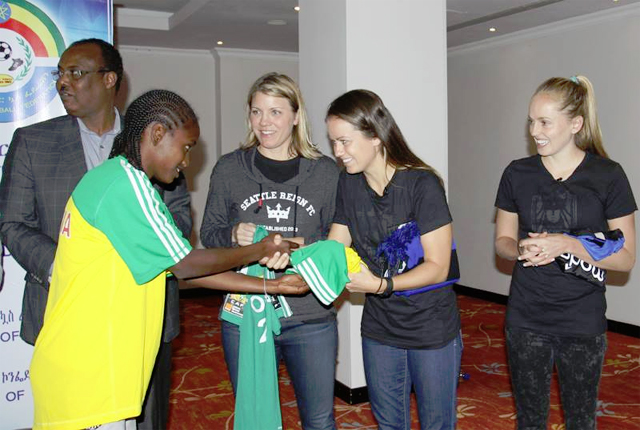 Juneidi Basha, President of the Ethiopia Football Federation and Teresa Predmore, owner of the Seattle Reign observing the jersey swap between Emebet Addisu and Lauren Lauren Barnes. (Photo: US Embassy)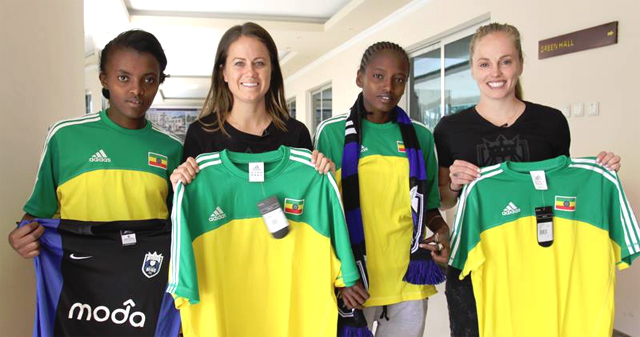 Left to Right: Emebet Addisu, Lauren Barnes, Elli Reed and Tsion Seyera (photo: US Embassy – Ethiopia)
—
Join the conversation on Twitter and Facebook.