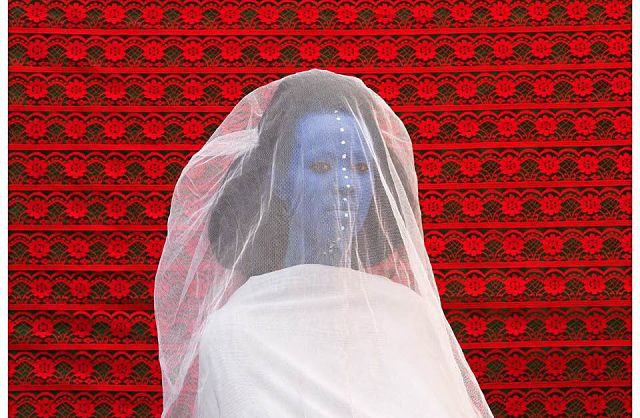 Tadias Magazine
By Tadias Staff
Published: Wednesday, March 2nd, 2016
New York (TADIAS) — Ethiopian artist Aïda Muluneh's first solo exhibition at David Krut Projects gallery in New York City opens this week.
The exhibition entitled The World is 9 "consists of a selection of images from a brand new series of photographic works in which Muluneh questions life, love, history, and whether we can live in this world with full contentment," announced David Krut Projects, a Manhatan-based alternative arts institution. "The title comes from an expression that Muluneh's grandmother had repeated, in which she stated, "the world is 9, it is never complete and never perfect."
"I am not seeking answers but asking provocative questions about the life that we live – as people, as nations, as beings," says Aïda.
Photographer and artist Aïda Muluneh resides in Addis Ababa, Ethiopia and is a recipient of the 2007 European Union Prize at Rencontres Africaines de la Photographie in Bamako, Mali as well as the 2010 CRAF International Award of Photography. Her photography work is part of the permanent collection at the Smithsonian National Museum of African Art in Washington D.C. and the Sindika Dokolo Foundation in Berlin. Aïda founded the first international photography festival in Ethiopia, Addis Foto Fest, and currently promotes photography projects through her organization DESTA (Developing & Educating Society Through Art). Aïda Muluneh obtained a Bachelor's degree in film, radio & television from Howard University in Washington, D.C. in 2000.
—
If You Go:
David Krut Projects Presents
AIDA MULUNEH EXHIBITION: The World is 9
March 3 – April 16, 2016
Opening Reception: March 3, 2016 6 – 8 PM
526 West 26th Street, #816
New York, NY 10001
www.davidkrut.com
Related:
Tadias Interview: Aida Muluneh on Her Ethiopia Exhibition 'So Long a Letter'
Join the conversation on Twitter and Facebook.