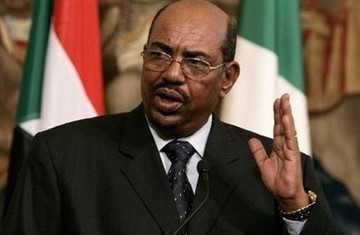 Above: Sudanese President Omar al-Bashir. An international
warrant has been issued for his arrest. (Photo in Rome, Sept.
14, 2007)
Wednesday, 4 March 2009
The International Criminal Court has issued an arrest warrant for Sudan's president on charges of war crimes and crimes against humanity in Darfur.
But the ICC in The Hague stopped short of accusing Omar al-Bashir of genocide. He denies the charges and has dismissed any ruling by the court as worthless.
Thousands of protesters took to the streets of the capital, Khartoum, after the announcement, amid fears of unrest.
The UN estimates 300,000 people have died in Darfur's six-year conflict.
Millions more have been displaced.
Court spokeswoman Laurence Blairon announced the ruling by a panel of judges on the charges presented by ICC prosecutors.
She said Mr Bashir was suspected of being criminally responsible for "intentionally directing attacks against an important part of the civilian population of Darfur, Sudan, murdering, exterminating, raping, torturing and forcibly transferring large numbers of civilians and pillaging their property".
Ms Blairon said the violence in Darfur was the result of a common plan organised at the highest level of the Sudanese government, but there was no evidence of genocide.
The court would transmit a request for Mr Bashir's arrest and surrender as soon as possible to the Sudanese government, she added.
It is the first warrant issued by The Hague-based UN court against a sitting head of state.
ICC prosecutor Luis Moreno-Ocampo made the request for the warrant in July 2008. Read More.