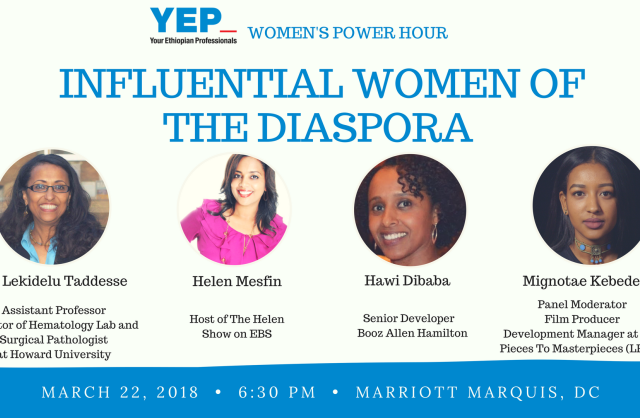 Tadias Magazine
By Tadias Staff
March 5th, 2018
New York (TADIAS) — March is women's history month in the United States and the Washington D.C.-based Ethiopian professional networking organization, YEP, is hosting an upcoming event titled "Women's Power Hour" featuring influential women of the Diaspora.
"Women are the backbone of our families and communities, and this Women's History Month, we're celebrating them in all their glory," YEP said announcing the event that will be held at Marriott Marquis on Thursday, March 22nd. "Hear from influential women of the Diaspora as they share their unique stories and experiences of navigating life as women of color in America." YEP adds: "Successful and inspiring leaders in media, tech, health, and more will delve into their struggles and wins in both their personal and professional journeys."
Panelists include Dr. Lekidelu Taddesse, Director of Hematology Lab and Surgical Pathology at Howard University; Helen Mesfin, Host of the Helen Show on EBS; Hawi Dibaba, Senior Developer at Booz Allen Hamilton; with film producer Mignotae Kebede as the panel moderator.
"Walk away with tips and insight on self-care, becoming your best professional self, and ways to foster sisterhood," the announcement says. The evening will begin with a panel discussion and move into a structured networking power hour."
—
If You Go:
Event to be held at the following time, date, and location:
Thursday, March 22, 2018 from 6:00 PM to 9:30 PM (EDT)
Marriott Marquis
901 Massachusetts Ave NW
George Washington University Room
Washington, D.C. 20001
Click here to RSVP
Join the conversation on Twitter and Facebook.