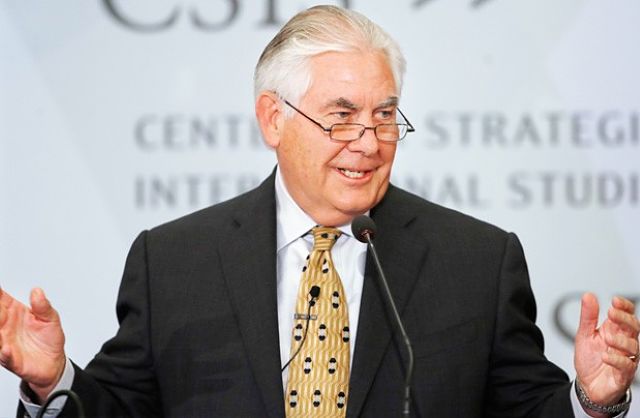 Tadias Magazine
By Tadias Staff
Updated: March 6th, 2018
New York (TADIAS) — On Monday senior officials at U.S. State Department held a private briefing for members of the African Diaspora regarding Secretary of State Rex Tillerson's trip to Africa this week.
In Ethiopia Tillerson will meet with both the outgoing Prime Minister Hailemariam Desalegn and the Minister for Foreign Affairs Workneh Gebeyehu. During his meetings Tillerson will encourage building and strengthening democratic institutions based on protection of human rights, civil rights as well as promoting tolerance.
In addition, the U.S. is also very concerned about the recent ethnic fighting between Oromo and Somali ethnic groups that has displaced nearly one million people, and the subject is certain to come up during the meeting.
Furthermore, the talks will include a discussion about the ongoing climate-induced drought in Ethiopia and possible solutions.
U.S officials emphasized Ethiopia's complex role in regional security among other areas of interest that U.S. Secretary of State Rex Tillerson will discuss with Ethiopian officials this week. Ethiopia's role in the region includes both being a major peacekeeping troop contributor and host of hundreds of thousands of refugees from South Sudan as well as home of the African Union.
The State Department says Tillerson's mission is "to further our partnerships with the governments and people of Africa. In particular, to discuss ways we can work with our partners to counter terrorism, advance peace and security, promote good governance, and spur mutually beneficial trade and investment. During his trip, he will also meet with U.S. Embassy personnel and participate in events related to U.S. government-supported activities."
This U.S. diplomatic excursion follows the global firestorm sparked in January by President Trump's reported "shithole" remarks in reference to the African continent and its people. Trump denies making the comment.
—
Related:
Strikes Spread in Restive Ethiopia Region Before Tillerson Visit (Bloomberg)
Russia suggests Tillerson-Lavrov meeting in Ethiopia this week
Tillerson Heads to Addis, Ethiopia Doubles Down on Emergency Law: Media Round up
Join the conversation on Twitter and Facebook