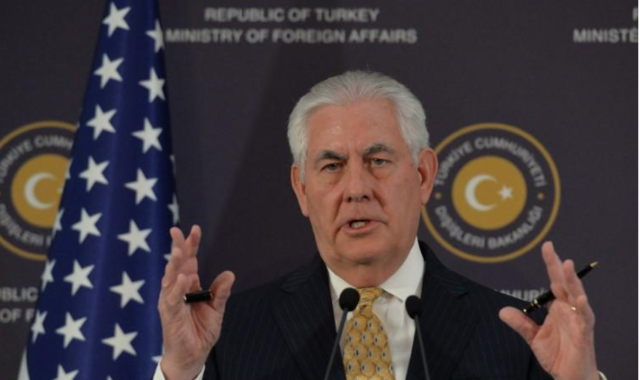 Tadias Magazine
By Tadias Staff
March 3rd, 2018
New York (TADIAS) — U.S. Secretary of State Rex Tillerson will be heading to Addis Ababa next week as part of his first trip to Africa as America's top diplomat.
Tillerson's trip to Ethiopia comes as the country's parliament, which is entirely controlled by the ruling coalition party, approved — in a disputed vote — a controversial state of emergency on Friday and suspending the constitutional rights of all Ethiopians.
Last month the U.S. Embassy in Addis Ababa released a press statement that strongly disagreed with Ethiopia's state of emergency declaration, and urged its close African ally to focus instead on encouraging "greater freedom, not less." The press release added that: "the challenges facing Ethiopia, whether to democratic reform, economic growth, or lasting stability, are best addressed through inclusive discourse and political processes, rather than through the imposition of restrictions."
However, given that the U.S. has other interests and partnerships with Ethiopia regarding regional security and other matters it is highly unlikely that Tillerson's agenda will be limited to Ethiopia's domestic political crisis.
The U.S. State Department announced that Tillerson will also travel to Chad, Djibouti, Kenya and Nigeria.
The State Department's press release says that "during his March 6-13 trip, Tillerson plans to discuss ways we can work with our partners to counter terrorism, advance peace and security, promote good governance, and spur mutually beneficial trade and investment," and noting that the U.S. Secretary of State is likewise scheduled to meet with officials of the African Union Commission headquartered in Addis Ababa.
This U.S. diplomatic excursion follows the global firestorm sparked in January by President Trump's reported "shithole" remarks in reference to the African continent and its people. Trump denies making the comment.
—-
Related:
Under a new state of emergency, Ethiopia is on the brink of crisis, again (The Washington Post)
Ethiopia: Social Media, Diaspora & State of Emergency Press Roundup
Join the conversation on Twitter and Facebook