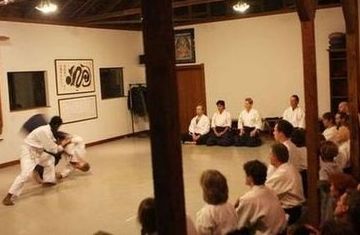 Tadias Magazine
By Tseday Alehegn
Published: Tuesday, March 10, 2009
New York (Tadias) – For the past three years, Tesfaye Tekelu, Co-Founder and Manager of the Awassa Youth Campus (AYC), has been training at Aikido dojos around the world. Last month, he completed leadership training courses and took his Black Belt exam under renowned Aikido instructor Richard Strozzi-Heckler Sensei in Petaluma, California. On February 11th, 2009, Senator Mark Leno awarded Tesfaye with the State of California Senate certificate of recognition in honor of his becoming the first Ethiopian Aikido Black Belt and Sensei of the Awassa Peace Dojo. The certificate highlighted Tesfaye's "participation in the Aiki Extensions Training Across Borders Middle East Aikido Peace Conferences in Cyprus and in Zurich; developing the Awassa Youth Center and dojo program; and culminating in intensive Shodan-Ho training with senior instructors across America."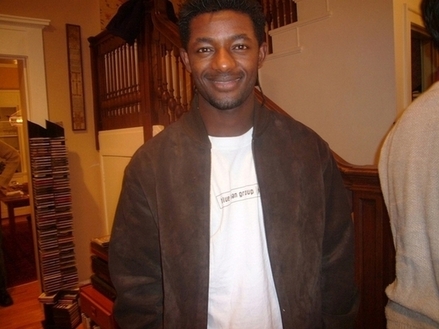 Tesfaye Tekelu (Photo by Tadias/Chicago, November 2008)
Aikido, a non-competitive martial art was developed by its Japanese founder, Morihei Ueshiba in the 1920s. The term "Aiki" can be translated as "harmony" while "do" means "the Way." Hence, Aikido is the way of harmony, a way of blending your energy with the energy of the universe and your fellow humans. Encompassing the power of breath, form, and awareness, Aikido techniques are used to protect both the attacked and the attacker from harm. Since its official registration in Japan as a martial art form in 1942, Aikido has spread to the West, and modern instructors, such as those affiliated with Chicago-based non-profit Aiki Extensions (www.aiki-extensions.org), use the art to nurture and develop social support and social networks. Aikido ideas have also been applied in areas such as education, psychotherapy, bodywork, mediation, and social conflict resolution.
The Awassa Youth Campus (AYC) was founded in February 2006 through the collaboration of Aiki Extensions non-profit group and the Awassa-based Debub Negat Circus, now known as AYC's One Love Theater AIDS Education program. Since then, AYC's program has expanded. It now offers a recording studio with instruments for learning music, a library (free and accessible to the community), an art studio and sports venues including a paved basketball court, a volleyball court, a soccer field, as well as the aikido dojo, recently built by students using bamboo and other local materials. It currently has an enrollment of 75 students, and classes are offered seven days a week.
As the main instructor at the Awassa Peace Dojo at AYC, Tesfaye has toured throughout Ethiopia to give Aikido demonstrations both to the general public and on Ethiopian national television. He has provided Aikido workshops to Addis Ababa Ministry of Education officials, inspiring them to move toward requiring aikido training for secondary school Seniors.
Tesfaye first met his mentor Donald Levine Sensei who was visiting the Awassa Children's Center with his wife Ruth after receiving an honorary Doctorate from Addis Ababa University in August 2004. After watching a show by the children that incorporated gymnastics, martial arts, and street theater, Levine asked if anyone there knew about Aikido. When requested to demonstrate this art, Levine looked around for a volunteer and pointed to Tesfaye.
As Tesfaye recalls, "He [Levine] asked me to grab his hand and as I did so, at that moment, I felt something different than what I have known before from my practice in martial arts." Tesfaye immediately asked Levine to teach him Aikido; lessons began every day when Tesfaye served as tour guide for the couple in remote parts of the Southern Region.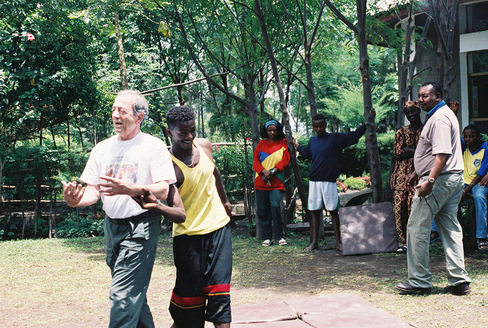 Tesfaye's first tenkan with mentor Donald Levine
"My life journey started 200 km from Awassa, in a place called Amaro in Korate Village before I moved to Awassa," Tesfaye shares. "I was born in a traditional house called a gojo bet (tukul), where there was no electricity, no telephone, and no running water." There are several aspects that he loves about Awassa. "The town is surrounded by mountains and by a lake," he enthuses "and the city is flat and leveled. If you want to see the town you have to hike up to one of the mountains surrounding Awassa. And once you're up there you see the carpet of forest, and Awassa is nestled in that forest. It is a town where we grow up swimming in the lake, fishing, floating on boats, hiking in the mountains, and playing football. It's a vacation place. For me it's like Ethiopian California" he says comparing it to places he has discovered on his most recent training tour to the United States.
Awassa, serves as a capital for 56 southern tribes and Tesfaye admits it's inspiring for him to see the town people living "in harmony, peace and respect" among such diversity. "It should be a model for our continent Africa," he reminds us. He conjures up an image of us stepping out of a box or getting over a fence, demolishing the notion that color, politics, borders, religion, and tribe can divide us. "We have to reach out of that box and see each other as people and come together as one Africa. Then we can have a little Awassa in Africa," he concludes. He believes that Ethiopia's interfaith history, for example, is a model for the rest of the world. He points to his own family as an example and says "More than three religions are practiced within my family, and we are living together with love and respect." He uses his life lessons to promote community programs such as the HIV awareness circus group and theatre. He describes AYC as "a place where street children and adolescents come to learn and share their awareness with each other." AYC has an open-door policy and all community members are welcome to participate as members. Under his guidance the Awassa Peace Dojo is providing youth with an alternative to involvement in gang-related violence.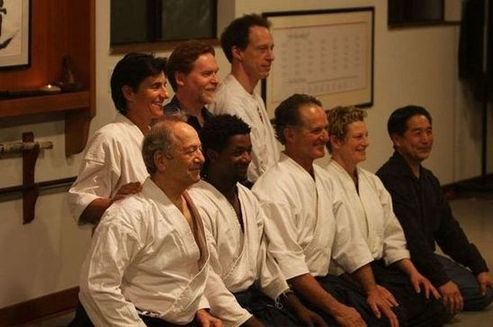 Tesfaye participates in training across borders program in Cyprus focusing on
reducing social conflict
Recently, Tesfaye embarked on an extensive dojo tour and training program in various U.S. cities in pursuit of a Black Belt in Aikido. "I have trained with one of O Sensei's students, Saotome Sensei as well as with Levine Sensei, and Kevin Sensei in Chicago," he says. He has also trained with various instructors in dojos located in Berkeley, Santa Cruz, San Diego, and Seattle. He took his Black Belt exam in Strozzi-Heckler Sensei's Two Rock Dojo in Petaluma last month and awed his audience. Tesfaye was especially touched by the nature surrounding Two Rock Dojo, which reminded him of his own growing up experiences in Ethiopia.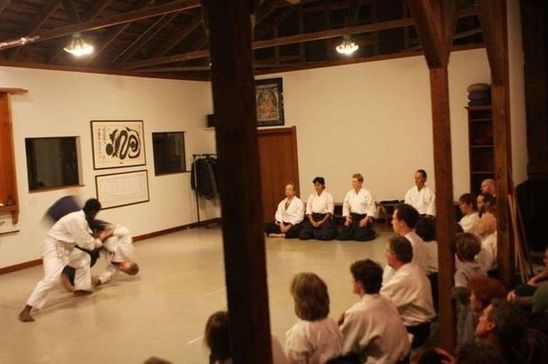 Tesfaye took his Black Belt exam at Two Rock Dojo in Petaluma, California (Feb. 2009)
His trip to America also involved participating in a theater festival in New York City entitled "Performing the World" with two other AYC staff members. He also worked to raise funds for AYC projects. Among some of his most favorite moments he cites training and assisting Levine Sensei's University of Chicago students in their Aikido class, as well as taking the Strozzi Institute Leadership course, which he felt was '"very powerful, and something everyone should get a chance to study." Levine had also assisted Tesfaye in furthering his Aikido practice by sending him to training summer camps in Zurich prior to his training in America.
With such an intensive schedule, was there any time to unwind? He assures us he has had plenty of sight-seeing. He lists a plethora of U.S. cities that he has visited during his stay. "I have toured New York, Chicago, Colorado, Boston, Pennsylvania, Washington, DC, San Francisco, Los Angeles, Petaluma, Santa Cruz, and San Diego," he reports. "I don't even remember all the names of places that I have seen." He is excited to share that he also participated in a music video promoting Obama's presidential campaign. "I had a chance to meet Obama in Pittsburgh," he says happily. "I had a chance to fly a helicopter in California and went skiing for the first time in Seattle."
"Now I understand what one means by the term "Western," he says. He reflects on it and thinks aloud about what he can learn from the West. It makes him also pay closer attention to what he deems are "tremendous opportunities around us" in Awassa. "We have to see what we already have around and believe that every thing we dream is possible. It starts with us and is evident around us," he urges. "That is what I am interested in: to work with youth and bring that awareness to my country and beyond."
"Finally I am grateful for the people who understand the challenges we face, and those who help and support me in their action," he says. He gives special thanks to Levine Sensei and all the instructors that he trained with in the U.S. and Europe. "I feel lucky to meet and know these great people across the country and to train with them, and I am very grateful" he adds. "I would like to thank them for their wonderful help and support."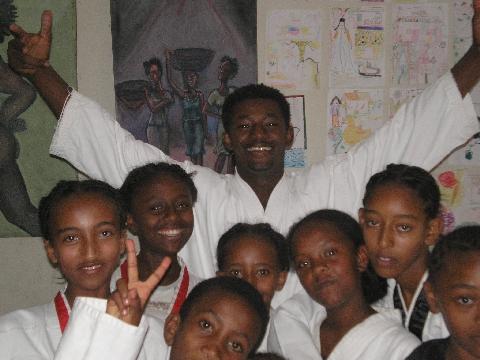 Tesfaye with students in Awassa.
"My wish," he says "is to open more centers in Ethiopia, and within two or three years my mission is to have a Pan-African network."
Within five years? "An African Youth Campus" he replies. "My vision is to work at the grassroot level across the continent and beyond to bring change and awareness to the next generation."
Worldwide, change is definitely the word of choice this year.
—-
About the Author



Tseday Alehegn is the Editor-in-Chief of Tadias Magazine. She is a graduate of Stanford University (both B.A. & M.A.). In addition to her responsibilities at Tadias, Tseday is also a Doctoral student at Columbia University.