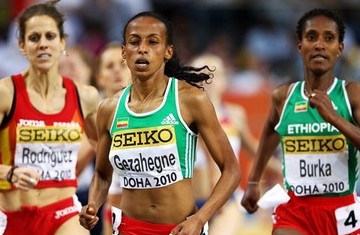 Above: (L-R) Natalia Rodriguez (Spain) takes silver, Kalkidan
Gezahegne (ETH) the gold, and Gelete Burka takes the bronze
in the Women's 1500m Final. (Getty Images)
IAAF
By Bob Ramsak
Sunday, 14 March 2010
Ethiopia did take another women's 1500m title, but the gold didn't go to defending champion Gelete Burka.
Running with the grit and determination of a seasoned veteran, 18-year-old Kalkidan Gezahegne effortlessly kicked past Burka and Spaniard Natalia Rodriguez to become the youngest woman to ever win a World indoor title.
"I was hesitating to attack after falling down in the heats," said Gezahegne, whose tumble to the track and brave run to victory was perhaps the major highlight on the opening day of competition. "At the end my finish was enough."
Her spectacular comeback in the heats already displayed to the world the determination of Gezahegne, who at 18 years and 310 days old, outdid a very familiar name as the youngest ever World indoor champion: Gabriela Szabo of Romania who won her first 3000m title in 1995 when she was 19 years and just under four months old. That was a stat, though, that Gezahegne didn't think about much at all.
"Thank you for telling me," she said. "That is an excellent feeling." An excellent feeling to match a finely executed race. Read More.