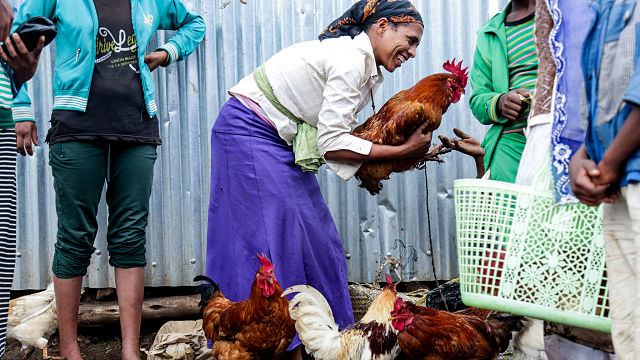 EthioChicken: Ethiopia's well-hatched idea
Six months ago Abdurazak Tariku hadn't heard of EthioChicken. The 24-year-old civil engineering student had expected his career path to involve bridges and roads rather than poultry vaccines and animal feed.
"I'd never really thought about chickens before," he says. "But a friend explained how [he was] making decent money from rearing and selling chickens, and I could see the birds in my neighbourhood. They were bigger and looked healthier than ordinary chickens."
Abdurazak convinced his parents to let him take over a shed they owned in Fikadu, a village 160km south-west of the Ethiopian capital Addis Ababa, and become an EthioChicken agent. He is rearing his first batch of 1,500 chicks bought from EthioChicken and is busy looking for customers while continuing his studies at the nearby Wolkite University.
"I'm planning to go full-time after I graduate," he says. "I shall employ some people when I get busier. Three or four friends are already saying they want to do it too."
Abdurazak's story sounds like suspiciously positive corporate public relations — the poster boy with well-rehearsed lines brought out to impress foreign visitors. But after random stops at homesteads where EthioChicken poultry can be seen pecking at the dusty ground, his tale and the seven-year story of the company's evolution from aid worker's dream to multinational enterprise becomes completely credible. rural
—
Join the conversation on Twitter and Facebook