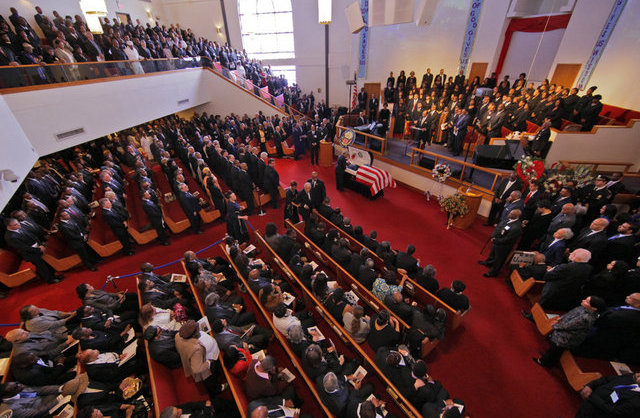 Tadias Magazine
Tadias Staff
Sunday, March 18, 2012
New York (TADIAS) – Mourners, friends and well-wishers paid their final respects to Congressman Donald Payne on Wednesday, March 14th as family members and dignitaries, including members of the Ethiopian Diaspora, gathered for his funeral at the Metropolitan Baptist Church in Newark, New Jersey.
Congressman Payne, who was elected in 1988 as New Jersey's first black representative, was also one of Africa's passionate advocates. As AP noted: "He took a particular interest in foreign policy involving Africa, and at the time of his death he was the top Democrat on the Subcommittee on Africa and Global Health. He sponsored legislation to help relieve famine in Darfur and championed funding for treatment of HIV and AIDS, malaria and other diseases abroad."
Soon after his death was announced, President Barack Obama ended a press conference with a tribute to Payne and condolences to his family. Payne was "a wonderful man who did great work both domestically and internationally," Obama said. "He was a friend of mine. And so my heart goes out to his family and to his colleagues." At the funeral Attorney General Eric H. Holder read a letter from President Barack Obama to Payne's family.
Former President Bill Clinton led the string of eulogies given at the funeral. "Don Payne believed that peace was better than war, he believed it was better to build than to break. Better to reconcile than to resent," said Clinton, adding that he loved Payne. Clinton said, "He finished his course and God had said well done." At the end of his speech, Clinton said Payne was "a good and faithful servant" to which the entire church erupted in applause.
You can view photos from Congressman Donald Payne's funeral at The Star-Ledger.
—
Source: Tadias, pool report and AP.
Video: Remembering US Representative Donald Payne (MSNBC)

Visit msnbc.com for breaking news, world news, and news about the economy